LinkedIn's Forecast Prompts Analysts to Reconsider Prospects
by
First-quarter and full-year revenue forecast miss projections

`Clearly we were wrong,' Mizuho says, lowering price target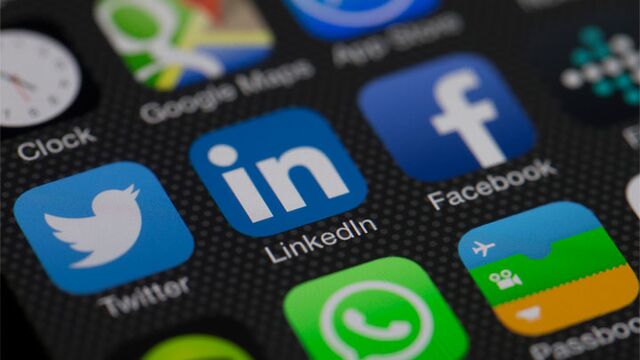 LinkedIn Corp. is no longer the hot tech company many people thought it was.
The stock plunged the most ever amid a wave of analyst downgrades after the company said its new business lines for sales and marketing tools aren't going to grow as fast as most people were predicting -- and some initiatives are grinding to a halt. Investors have been forced to revise their thinking about the company's prospects and strategy.
"Clearly, we were wrong," said Neil Doshi, an analyst at Mizuho Securities. "With a lower growth profile, we believe that LinkedIn should not enjoy the premium multiple it has grown accustomed to." Mizuho lowered its price target to $150 from $258 and downgraded its rating on the stock to neutral from buy.
Analysts almost across the board either lowered their price targets, their recommendation or both. Some, like Doshi, said they were caught off guard by the magnitude of the discrepancy in the company's sales forecasts and analysts' estimates.
"In this market, there's no mercy for a miss," said James Cakmak, an analyst at Monness Crespi Hardt & Co.
"This is usually not the time to pull the plug, but with our thesis in question, our confidence in the sustainability of the valuation, or expansion from here for that matter, is materially lower," Cakmak wrote in a note to investors Friday, changing his recommendation to neutral from buy.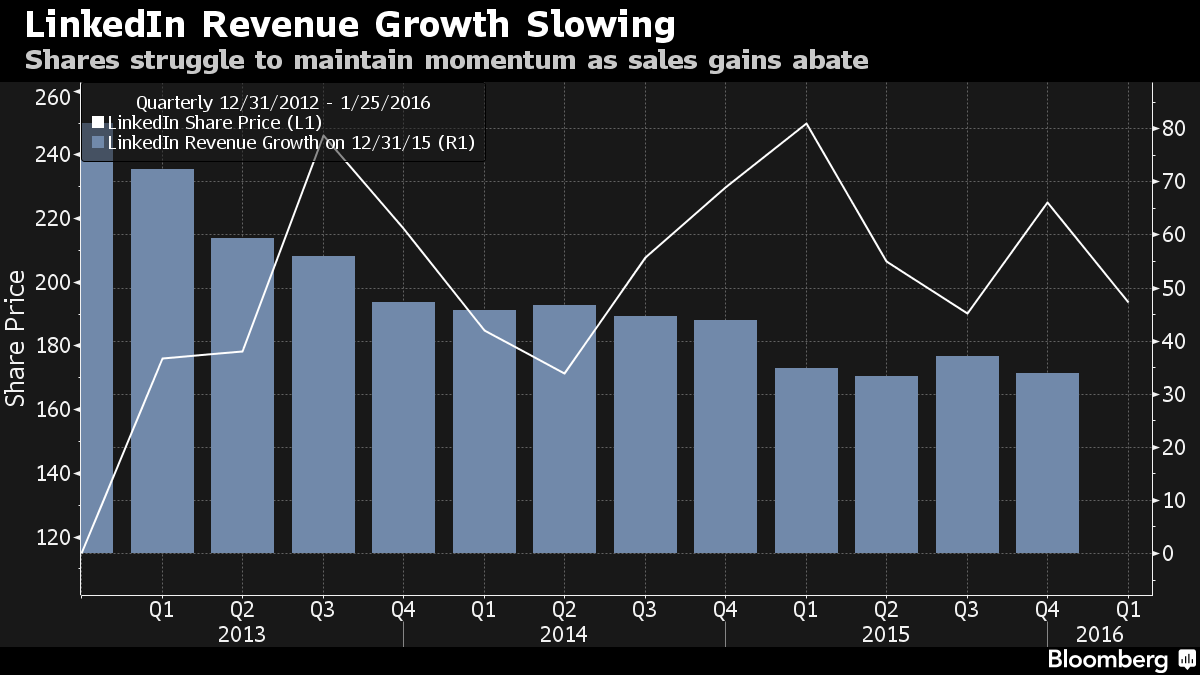 The shares of Mountain View, California-based LinkedIn fell 44 percent to $108.38, the biggest decline since the company's initial public offering in May 2011.
Revenue will be about $820 million in the first quarter, and $3.6 billion to $3.65 billion for 2016, the company said in a statement Thursday. That missed analysts' average estimate for $867.1 million and $3.9 billion, according to data compiled by Bloomberg.
While Chief Executive Officer Jeff Weiner has made investments to diversify the business, like acquiring education website Lynda.com for $1.5 billion last year, it will be a while before those efforts contribute meaningfully to revenue. In the meantime, LinkedIn is facing a slowdown in its marketing-services business, which companies use to find potential customers, show them ads and relevant information and generate sales leads. Sales to recruiters, who use LinkedIn to find candidates for jobs, are also slowing.
Hoffman's Loss
The cratering share price has cost co-founder Reid Hoffman $1.2 billion as of 1:20 p.m. in New York, cutting his net worth to about $2.6 billion, according to the Bloomberg Billionaires Index.
LinkedIn is narrowing its focus in some areas, which is hurting sales. For example, it's discontinuing a tool that helps marketers find leads, incorporating the technology into its sponsored content business instead, contributing to a slowdown in its marketing solutions business. Revenue in the marketing solutions division rose 20 percent in the fourth quarter to $183 million.
The professional-networking website is also facing slower economic growth in Europe and Asia, though it said China is its fastest-growing country for new members. The company has a standalone app for Chinese users and has devoted much of its efforts over the past year to push deeper into that market. LinkedIn had 414 million users in the fourth quarter, up from 396 million in the prior period.
For the fourth quarter, LinkedIn reported a loss attributable to common shareholders of $8.43 million, compared with the average estimate for $50.2 million. Revenue climbed 34 percent to $862 million, topping the prediction for $857.4 million. LinkedIn has seen average annual sales growth of about 56 percent since its 2011 initial public offering.
Before it's here, it's on the Bloomberg Terminal.
LEARN MORE