Korea Needs a Rate Cut, Ex-Central Banker Says
by
Kang says central bank should act as soon as February meeting

Lower rate would show action in boosting economy, Kang says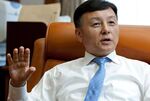 The Bank of Korea should lower its benchmark interest rate as soon as this month to tackle the nation's sluggish growth and to show that policy makers are doing everything they can to bolster the economy, a former board member said.
"The contraction in the global economy seems to be worsening this year, and the fall in January exports shows what damage it is doing to the Korean economy," Kang Myung Hun, who served as a monetary policy committee member from 2008-2012, said in an interview Thursday. "No policy can be perfect, but we need to think about priorities -- reviving growth --- rather than side effects like household debt."
The speculation of a rate cut at this month's BOK policy meeting on Feb. 16 rose sharply after the Bank of Japan adopted a negative interest rate strategy on Jan. 29, raising concerns that the Korean won may appreciate against the yen and hurt exporters.
Exports shrank 18.5 percent in January, the biggest drop since 2009, as global demand and especially that from neighboring China slowed. While consumption supported the economy even amid declining exports in 2015, the current outlook is less certain with sentiment dropping back to where it was last year when the deadly Middle East Respiratory Syndrome kept shoppers at home.
"South Korea is an economy that is reliant on exports," and thus a decline means fewer jobs, less income and less consumption, said Kang, currently a professor of economics at Dankook University. "A cut can be a preemptive action to show policy makers are doing all they can."
BOK members have held the seven-day repurchase rate at 1.5 percent since June. Korea's three-year bond yield fell to match the benchmark rate on Wednesday, a movement that was seen before rate cuts in March and June 2015. 

The government and central bank both forecast that the Korean economy will expand at least 3 percent this year, after posting 2.6 percent growth in 2015. Comments by BOK Governor Lee Ju Yeol until last month suggested the central bank wants to take a wait-and-see stance to gauge the effect of Chinese market turmoil and the Federal Reserve's monetary tightening. 
Factors that could prevent the BOK from lowering rates further are heavy household debt and potential capital outflows after the Fed's rate increase. Household debt rose to a record 1,166 trillion won ($970 billion) as of the end of September. Korean and U.S. 10-year bond yields are close, lessening the attractiveness of Korean assets.
"There used to be a perception that 2 percent was the lower bound for Korea's key rate when I was a member of the board, but now we're living in an era of the new normal," Kang said. "In this low-growth, low-inflation period, the BOK shouldn't be thinking of a specific level as the floor of the interest rate."
Before it's here, it's on the Bloomberg Terminal.
LEARN MORE