It's the `S' Word in Ireland as Election Campaign Gets Under Way
by
Governing coalition leads ahead of Feb. 26 vote in Ireland

Anti-austerity Sinn Fein has few allies to join rival bloc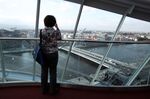 As Irish government minister Damien English wound up a pre-election debate in front of 400 executives at a Dublin hotel last week, he left them with a simple message: "Remember, guys, the word is stability."
The audience chuckled because English had spent the previous hour stressing his point: that only re-electing his boss, Enda Kenny, will guarantee the Irish economy remains on an even keel as European Union is buffeted by political and financial shocks. 
"Ireland is clearly moving in the right direction," Kenny said on Wednesday as he called the vote for Feb. 26. "This election is about who will keep the recovery going, based on stability and progress."

After elections in Portugal and Spain led to impasses that made investors increasingly wary of politics, the vibe in Ireland is that now is not the time for upheaval. With the support of the European Central Bank, benchmark Irish 10-year bond yields have fallen to less than 1 percent from a peak of 14.2 percent when Kenny came to power in 2011. The country has reclaimed its spot as the euro region's top-performing economy.
Irish Pride
All that will be at risk, runs Kenny's campaign pitch, if voters hand power to anti-austerity parties like Sinn Fein. There's also a referendum on European Union membership looming in the U.K., Ireland's biggest trading partner.
The strategy seems to be working. The odds offered by bookmaker Paddy Power indicate Kenny is 95 percent certain to be re-elected, albeit with a vastly reduced representation in parliament.
"There is a difference between Ireland and some of the other bailed out countries in Europe," said Eurasia Group Ltd. analyst Charles Lichfield. "There's a pride in coming out the other side that we haven't seen elsewhere."
Opposition parties recognize they too must reassure voters.
"No party has a monopoly on stability, " Dara Calleary, a spokesman for Fianna Fail, the biggest opposition party, told English last week at the debate.
Kenny, 64, took power during the worst recession in the nation's modern history and four months after the previous government negotiated an international bailout.

Armed with a large majority, he set about implementing the rescue program, raising taxes and keeping a lid on spending. U.S. companies like Twitter Inc. have continued to flood into Dublin, pushing down unemployment.
Complications
Yet, Kenny's path to victory isn't entirely straightforward. While support for this Fine Gael party is holding up, backing for his coalition ally, the Labour Party, has plunged.
Combined support for the alliance stands at 35 percent, the Irish Times said on Thursday in Dublin, citing an Ipsos/MRBI poll. To win a second term, the coalition needs about 44 percent, according to Philip O'Sullivan, an economist at Investec Plc in Dublin. The two parties together won 55 percent in 2011.
Portugal's vote on Oct. 4 produced an inconclusive result, leading to weeks of brokering before Socialist leader Antonio Costa took power. Bond yields jumped to the highest in six months before easing over the last two weeks.
In Spain, Prime Minister Mariano Rajoy lost his majority in December and has admitted he doesn't have the support to serve a second term. The Spanish king this week asked the Socialist party leader to try and form a government.
Should the current Irish administration fall short of majority, Kenny could look for allies among a raft of small, newer parties or independent lawmakers. That wouldn't be unusual in Ireland, where no single party has won an overall majority since 1977.
"Even if the current coalition has a poor showing in the election, the chances of a market-unfriendly outcome are limited," said Colin Bermingham, an economist at BNP Paribas SA in London.
Before it's here, it's on the Bloomberg Terminal.
LEARN MORE