General Catalyst Raises $845 Million Venture Fund
By
Firm announces eighth fund, bringing total to $3.75 billion

General Catalyst has invested in Airbnb, Stripe, Snapchat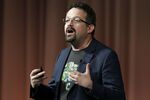 General Catalyst Partners, a backer of technology startups such as Snapchat Inc. and Stripe Inc., said investors have committed $845 million for its eighth venture fund.
The money will be divided between General Catalyst Group VIII LP and General Catalyst Group VIII Supplemental LP. The latter fund is designed to provide continued investment in existing portfolio companies. With the new funds, the 15-year-old venture capital firm's total capital increases to about $3.75 billion.
"Our newest funds are an important milestone; they enable us to keep doing what we love -- both as entrepreneurs and investors: identifying exceptional people and helping them achieve success through their brilliant, extraordinary ideas," the firm wrote on the blogging website Medium.
General Catalyst has offices in Cambridge, Massachusetts; New York; and Palo Alto, California. The firm recently added Phil Libin, the former chief executive officer of software maker Evernote Corp., as a partner.