EU Slashes 2016 Inflation Forecast to 0.5% as Growth Seen Slower
by
European Commission slashes inflation forecast on oil prices

Italy's deficit to be wider than predicted, commission says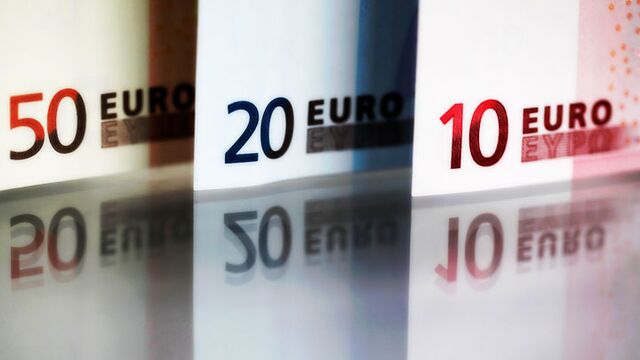 The slowdown in emerging economies is posing a major threat to recovery in the euro area, the European Commission said as it trimmed its 2016 growth forecast for the 19-nation region and warned inflation would be much slower than expected.
QuickTake Europe's QE Quandary
The commission sees consumer-price growth averaging just 0.5 percent this year, half the pace forecast in November and far below the European Central Bank's goal of just under 2 percent. It cut its prediction for economic expansion in the currency bloc to 1.7 percent from 1.8 percent and said the largest economies of Germany, France and Italy will all perform worse than predicted just three months ago.
"With the assumed path of energy prices, inflation should remain very low in the first half of this year," European Economics Commissioner Pierre Moscovici told reporters in Brussels on Thursday. "It should then rise slightly in the second half when the impact from the past sharp falls in oil prices abates."
Faced with a slowdown in China and volatility closer to home associated with terrorism and a surge of refugees from the Middle East and Africa to Europe in 2015, the euro area is still struggling to recover nearly six years after it first bailed out Greece.
ECB Stimulus
The deteriorating inflation outlook may spur the ECB into action again. President Mario Draghi has said policy makers will review their stimulus in March as the oil price collapse threatens price stability.
Risks to the economy include "policy reactions to migration and security threats, which could put further pressure on the Schengen system" of passport-free travel in Europe "as well as uncertainty surrounding further implementation of much-needed reforms," Marco Buti, the commission's director general for economic and financial affairs, said in a statement. The arrival of many migrants has given a boost to public consumption, he said.
The EU commission downgraded its 2016 forecast for the euro area's three largest economies each by 0.1 percentage point. It maintained its growth prediction for 2017 at 1.9 percent of gross domestic product.
The commission said the price of oil will increase later than it forecast in November, which would "delay the rebound of inflation from its current very low level and to put additional financial pressure on commodity-exporting countries."
The European Central Bank will review and may boost its stimulus in March as the oil slump delays the return of inflation to the ECB's goal that the euro area hasn't reached in almost three years.
Labor Reform
"There are forces in the global economy today that are conspiring to hold inflation down," Draghi said in a speech in Frankfurt on Thursday. "Those forces might cause inflation to return more slowly to our objective. But there is no reason why they should lead to a permanently lower inflation rate."
With Italy battling to keep spending under control in its position as the second-largest port of call for refugees in Europe after Greece, the commission warned that its deficit would be 2.5 percent of GDP in 2016, wider than the 2.3 percent it previously forecast. The commission blamed extra spending on security and culture promotion. Prime Minister Matteo Renzi is chafing at the European deficit constraints, saying Italy shouldn't be held accountable for the costs of housing migrants.
"Concerns about the Chinese economy have sparked two bouts of global financial-market volatility in the past half-year," Buti said. "Other emerging markets are exposed -- to varying degrees -- to financial vulnerability, heightened by the turn of the interest-rate cycle in the US and the dollar's appreciation, to structural weaknesses, geopolitical tensions, and the sharp drop in a wide range of commodity prices."
As France attempts to push through reforms to the labor market to boost growth, public debt will continue to rise, the commission said, from 96.2 percent this year to 96.8 percent in 2016. Portugal's deficit is forecast to be 3.4 percent of GDP in 2016, a downgrade from the 2.9 percent predicted in November.
Unemployment in the euro area is expected to fall from record levels to 10.5 percent in 2016 and 10.2 percent in 2017.
(An earlier version of this story corrected the date in the second paragraph.)
Before it's here, it's on the Bloomberg Terminal.
LEARN MORE