Daimler Strikes More Cautious Tone as Only `Slight' Growth Seen
by
Sales growth will be `rather lower' than in record last year

Market expectations were very high, Evercore analyst says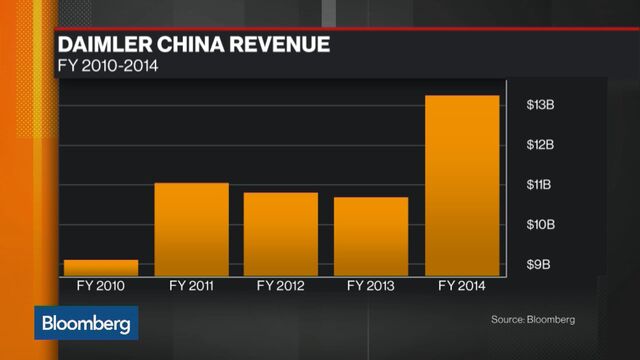 Daimler AG is paring back expectations after a record year, highlighting the challenge of sustaining growth as Chinese consumers cut spending and heavy-truck demand slows in the Americas.
The world's second-biggest luxury-car maker said Thursday it only sees gains of less than 5 percent in revenue and earnings this year, with the rate of increase in unit sales "rather lower" than in 2015. Daimler fell as much as 5.5 percent in Frankfurt, the most in two weeks.
Daimler's success with Mercedes-Benz, which may claim the industry's top position in high-end cars this year from BMW AG, is being tempered by slack demand for commercial vehicles such as trucks and buses. While Chief Executive Officer Dieter Zetsche rewarded investors with a promise of a record dividend, he cautioned that maintaining growth won't come easy because "getting to the top is hard, but staying at the top is even harder."
"Market expectations are very, very high, and while there's nothing wrong with Daimler's outlook, it probably won't be enough to satisfy the market," said Arndt Ellinghorst, a London-based analyst with Evercore ISI, saying the results may lead some investors to believe the company has peaked.

The shares fell as much as 3.43 euros, or 5.5 percent, to 59.54 euros, and traded at 60.53 euros at 12:54 p.m. in Frankfurt. Daimler has lost 22 percent this year, compared with a 12 percent decrease in the benchmark DAX Index. The company wants to pay out a dividend of 3.25 euros a share.
Fourth-quarter operating profit from ongoing operations rose to 3.46 billion euros ($3.86 billion) from 2.82 billion euros after Mercedes added new sport utility vehicles including the coupe-like GLC. Daimler's sales rose 13 percent to 40.4 billion euros.
Profit at the cars unit will grow "slightly" compared with last year, meaning a rise between 5 percent and 10 percent. Meanwhile, the company plans to spend an average of 7.2 billion euros this year and next on research and development. Highlights for 2016 include the introduction of the revamped Mercedes E-Class sedan, its most important product. 
The extra spending on products and technology will come at the expense of free cash flow, which Daimler said would be significantly lower than last year's 5.9 billion euros. Ellinghorst estimated free cash flow will probably be between 3.8 billion and 5.3 billion euros.
Deliveries in China rose 33 percent last year, compared with a 4.7 percent gain for the total market that was the slowest in three years.
"January is another remarkable month for us as far as growth momentum is concerned" in China, Zetsche said in an interview with Bloomberg Television. The CEO said Mercedes "can do significantly better" than forecasts of an 8 percent rise in the market.
Before it's here, it's on the Bloomberg Terminal.
LEARN MORE