ConocoPhillips Cannibalizes Dividend as Occidental Holds Firm
by and
Conoco stung by widest quarterly loss since 2008 crisis

Occidental, Statoil cling to payouts despite crude rout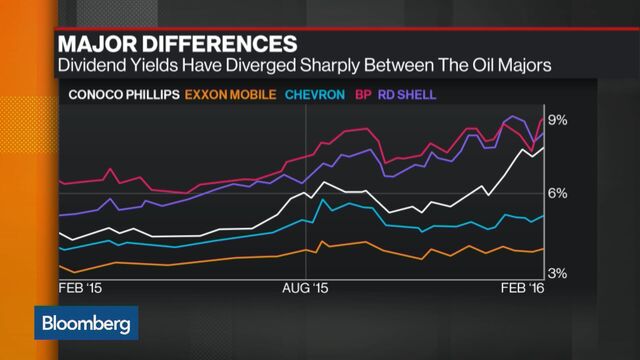 ConocoPhillips joined the ranks of oil explorers curtailing dividend payouts after suffering its steepest quarterly loss in almost a decade. Rival drillers Occidental Petroleum Corp. and Statoil ASA are holding fast for now.
ConocoPhillips's 66 percent dividend cut came alongside a drilling budget reduction after the fourth-quarter loss widened to $3.5 billion, or $2.78 a share, the Houston-based company said in a statement Thursday. Chief Executive Officer Ryan Lance also canceled plans to increase oil and natural gas production this year, and plans to write down the value of some fields by $800 million.
Occidental and Statoil also announced spending cuts on Thursday after posting quarterly results demolished by the precipitous drop in crude markets, though both said their dividends remain sacrosanct. Until now, ConocoPhillips had the richest dividend yield among the largest U.S. oil producers. Lance was pledging to keep it intact as recently as two months ago.
"The pressure obviously built up on them," said James Sullivan, an analyst at Alembic Global Advisors, who has an "overweight" rating on the shares. "The assumption a lot of us made was that the dividend is not sustainable."
Credit Downgrades
In reducing quarterly payouts to 25 cents a share from 74 cents, ConocoPhillips follows peers such as Eni SpA, Chesapeake Energy Corp. and Marathon Oil Corp. in diverting cash from dividends to pay for drilling and interest on loans. A wave of credit downgrades that swept some of the industry's biggest entities earlier this week highlighted the cash squeeze imposed by the worst crude downturn in a generation.
"While we don't know how far commodity prices will fall, or the duration of the downturn, we believe it's prudent to plan for lower prices for a longer period of time," Lance said in a statement Thursday.
ConocoPhillips's result compared with a loss of $39 million, or 3 cents, in the final three months of 2014. The stock slumped 8.6 percent to $35.32 in New York on Thursday.
Occidental posted its deepest quarterly loss in at least a quarter century as plummeting crude prices destroyed the value of oil fields. Still, the Houston-based driller's top priorities for spending this year will be safety precautions at its oil and gas installations and maintaining dividend payouts to shareholders, according to a statement on Thursday.
Deepening Losses
Occidental's fourth-quarter net loss widened to $5.18 billion, or $6.78 cents a share, from $3.4 billion, or $4.41, a year earlier, according to the statement. The three-month loss was the largest since at least 1990. Occidental's results included $5.4 billion in charges, mostly for the writedown of values on its oil and natural gas assets. 
Excluding one-time items, the company lost 17 cents a share, 4 cents worse than the average estimate among 24 analysts in a Bloomberg survey. 
The company said it will slash its 2016 drilling budget by 46 percent to $3 billion. The shares fell 1.7 percent to $66.98.
U.S. crude lost 42 percent of its value during the October-December period, averaging $42.16 a barrel, according to data compiled by Bloomberg.
Statoil Dividend
Statoil, Norway's biggest oil company, deepened investment cuts and offered to pay dividends in stock as it pledged to maintain shareholder payouts amid the market slump. Statoil shares jumped 9.1 percent.
The company said it will curb spending by 12 percent to $13 billion this year after reporting a 63 percent drop in fourth-quarter profit on Thursday. Statoil boosted its cost-savings target to $2.5 billion from $1.7 billion.
Statoil proposed keeping its payout at 22 cents a share for the quarter, while introducing a two-year scrip dividend program that it said was supported by the Norwegian government, which owns 67 percent of the company. Statoil's board intends to keep the dividend flat for the first three quarters of 2016, Chief Executive Officer Eldar Saetre said at a press conference in London.
"We are deeply committed to our dividend policy, which is about maintaining the dividend in a tough environment, through the cycle, reflecting our long-term earnings," Saetre said earlier in a television interview. The scrip dividend is "an additional tool" that strengthens our financial capacity, he said.
Before it's here, it's on the Bloomberg Terminal.
LEARN MORE