Photographer: ChinaFotoPress via Getty Images
Chinese New Year Celebrated in Three Charts
by
It's time to paint the town red, blow things up, visit grandma and eat hundreds of millions of chickens. Yes, it's the Lunar New Year, and cities from Shanghai to Singapore to Vancouver are preparing to usher in the Year of the Monkey.
In China, the biggest annual human migration in the world is under way with 332 million people packed onto trains — some for days — to return home for the traditional reunion dinner, boosting sales of snacks and adult diapers. Here's an insight into some of the more obscure effects of the festivities.
Don't Go to China
With China's 1.3 billion people trying to get home to have a big dinner with the family (or taking advantage of the week-long holiday to slip away to Bali), most plane and train tickets have been sold out for months. That means that the number of tourists visiting the country slumps each year around the spring festival.

Eat Bak-Kwa
The New Year is a time for all sorts of traditional dishes, some of which only appear at this time and others that increase sales because of their associations with prosperity, health and new beginnings. Oranges, suggesting the gold of money, are a big hit, while fish dishes denote a surplus from the year past.
In Singapore and Malaysia, no Lunar New Year is complete without gleaming, golden slices of dried barbecued pork, called bak-kwa, with prices rising rapidly as the old year runs out and reaching a peak just before new year.

Watch a Breathtaking Display
Those who do make it to Beijing, or simply can't get out, prepare for the loudest fireworks party on the planet as millions of residents let off firecrackers, rockets and sparklers — the noisier, the better.
Within minutes, Beijingers who spend the rest of the year complaining about air pollution levels, have filled the sky with smoke in one of the world's greatest pyrotechnic displays.  On New Year's Eve in 2012, as China welcomed the particularly auspicious water dragon, the spike in pollution around midnight was even higher than usual.

Video: Pork Defies Singapore Price Slump Before Lunar New Year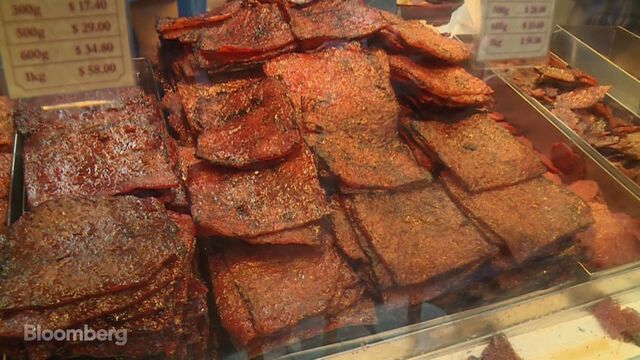 Before it's here, it's on the Bloomberg Terminal.
LEARN MORE