China's Little-Known Big Dealmaker
Ren Jianxin's pursuit of Switzerland's Syngenta pays off.
Sarah Chen and Tom Lasseter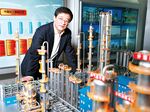 Ren Jianxin doesn't have the name recognition of Chinese billionaires such as Jack Ma of Alibaba Group or Wang Jianlin of Dalian Wanda Group. But the chairman of state-owned China National Chemical (ChemChina) has just engineered an $46 billion international acquisition, China's biggest to date.
Ren has offered to buy Syngenta, a Swiss pesticide and seed company whose board has recommended the deal, expected to close by yearend. The acquisition of Syngenta caps months of off-and-on negotiations that included Ren being rebuffed after offering 449 Swiss francs ($446) a share, valuing the company at $42 billion. His final offer is equivalent to 480 francs a share—in cash. The deal still has to be cleared by regulators in the U.S. and Europe.
Ren, after orchestrating more than 100 mergers and acquisitions in China and abroad, "thinks something needs to be changed in order for Chinese-style companies to be sustainable," says Pang Guanglian, deputy secretary general of the China Petroleum and Chemical Industry Federation, who's attended industry meetings with him. "That change comes from acquiring Western brands."
While Ren has been a member of China's Communist Party throughout his career, he's a different sort of state-owned enterprise leader. He aggressively pursues overseas assets, glad-hands foreign executives, and airs doubts about the efficiency of state companies. On ChemChina's 10th anniversary in 2014, he wrote in a comppany newsletter: "For an improved version of the Chinese economy, we need an improved version of the Chinese company."
ChemChina bills itself as China's largest chemical company, with assets of 292.3 billion yuan ($44.4 billion) as of Sept. 30 and facilities in more than 140 countries. The conglomerate refines oil, makes pesticides and animal feed, and develops products such as the radiation-resistant Chinese flag carried by the Yutu moon rover. Ren refused to comment for this story.
Despite his talk of improving Chinese companies, Ren's enterprise in some ways doesn't appear to be much different from many SOEs that borrow huge sums from state-owned banks to keep going. For the quarter ended Sept. 30, ChemChina carried total debt of 156.5 billion yuan, or more than five times its cash and equivalents. The company had a negative return on assets and a net loss of 889.3 million yuan in the third quarter.
The SOE "sector as a whole, it's highly leveraged," says Arthur Kroeber, managing director at Gavekal Dragonomics, a Hong Kong-based research firm. "That's bad news for the economy. But it's not really clear that the government is thinking that way. They're still thinking in terms of, 'It's good for companies to gain access to these technologies and these distribution channels.' "
ChemChina's shopping spree fits with President Xi Jinping's vision of SOEs buying companies that will help China produce higher-value goods. And, despite the worrisome stock market news and capital flight, China's banks—which have 193 trillion yuan in assets—are still willing to finance the ambitious plans of SOEs. In ChemChina's case, that strategy would help build foreign revenues as growth in China's economy slows.
Syngenta's seed technology will also improve food security for a nation where corn yields are about half of those in the U.S. and the amount of arable land is declining. ChemChina will gain a worldwide presence in insecticides and crop development as well.
The Syngenta deal tops off a decade of mergers and acquisitions by ChemChina targeting domestic companies, French and Norwegian chemical makers, and an Israeli agrochemicals company. Last year, ChemChina's tire and rubber subsidiary bought control of Pirelli, the tiremaker for Ferrari, Bentley Motors, and Formula One race cars, for $8 billion. Ren has announced more than $15 billion worth of deals since 2005, excluding Syngenta, according to data compiled by Bloomberg.
He may be a global dealmaker but Ren, a 58-year-old with rimless glasses, thick dark hair, and a soft chin, remains a mystery at home. At the World Economic Forum in Davos, the president of the Beijing-based Asian Infrastructure Investment Bank, Jin Liqun, said he didn't know him. Neither did Xu Jinghong, chairman of Tsinghua Holdings, the investment fund of Beijing's Tsinghua University. Pang, of the chemical federation, says some Chinese consider it "odd" that Ren gets along so well with foreign executives. "This is quite unconventional for a head of a central SOE."
In the world of state-run companies, where nondescript men wearing short-sleeved white shirts and baggy windbreakers are the norm, Ren is known to flash cuff links on a pinstriped sleeve. "Most of our employees are Chinese, but you can also see there has been a substantial influence from foreign management," says Michael Koenig, a former Bayer executive who became chief executive officer of an important ChemChina subsidiary in January. "Compared to what I know from other Chinese SOEs, we are more open, more international."
Ren began his ascent in northwest Gansu province, a poor mining region next to the Gobi desert. He graduated from the economics department of a local university—eventually earning a master's degree—and joined the state-run Chemical Machinery Research Institute, where he was the Communist Youth League secretary. It was a recipe for a do-nothing bureaucratic career.
In 1984, Ren borrowed 10,000 yuan (about $1,500 at current exchange rates) from the institute to start the BlueStar Chemical Cleaning Group. His first employees scrubbed tea kettles as Ren took the most reliable path to power in China and became BlueStar's Communist Party secretary, according to his biography. He made an important ally: a woman named Gu Xiulian who was the formidable head of the chemical industry ministry from 1989 to 1998. She was also on the Communist Party's powerful central committee for 20 years. Ren transformed BlueStar from a scrubbing operation into ChemChina, a nationwide conglomerate of hundreds of chemical companies. Gu declined to comment.
Ren's perspective on potential problems may be gleaned from a ChemChina newsletter. It reviewed the Pirelli deal by saying, "Economists expect the merger to have a 25 percent chance of success and a 75 percent chance of failure." Not to worry, it continued, everything will work out.
The bottom line: Ren Jianxin, chairman of ChemChina, adheres to Xi Jinping's strategy of acquiring technology and access to new markets.
Before it's here, it's on the Bloomberg Terminal.
LEARN MORE