China Confirms Probe of Three Missing Hong Kong Booksellers
by and
Men under investigation for `illegal activities,' police say

Men linked to store that sells books critical of China's elite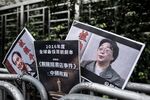 Three missing men linked to a Hong Kong store that sells books critical of China's Communist Party elite are under investigation by Chinese police for "illegal activities."
QuickTake Hong Kong's Autonomy
Police in the southern Chinese province of Guangdong said booksellers Lui Por, Cheung Chi Ping and Lam Wing Kee, who disappeared while in mainland China in October, are being probed in connection with Gui Minhai, another publisher, according to a Hong Kong police statement late Thursday. "Criminal compulsory measures" were imposed on the men, the statement said.
The disappearances came under scrutiny in December after another colleague, Lee Bo, vanished from a Hong Kong warehouse. The Hong Kong immigration service has no record of Lee leaving the city, fanning suspicion he had been sequestered by mainland authorities. Chinese police said Jan. 18 that Lee was in China and he told his wife that he was cooperating with an investigation.
The disappearance of Gui, a Chinese-born Swedish national, and Lee, a Hong Kong resident who also holds a British passport, has raised concerns that Chinese law enforcement agencies are ignoring national sovereignty in their pursuit of people they want to investigate. Li Xin, a Chinese journalist who disappeared from Thailand on Jan. 11, turned up in China this week, telling his wife that he returned voluntarily, Associated Press reported Wednesday. Li fled China for India in October saying he left because he had been forced to become an informant, AP said.
Televised Confession
Gui disappeared from Thailand in October and was shown on state television on Jan. 17 confessing to a 2004 fatal drunk-driving incident and asking Swedish authorities to respect his decision to turn himself in. Gui was known as an author of books critical of China's leadership.
The Hong Kong police statement said Lee sent a letter via the Guangdong police saying that the mainland authorities had told him Hong Kong police wished to meet him. Lee said he didn't need to meet with Hong Kong police at the moment and would contact them should it become necessary. Lee's wife confirmed his handwriting on the letter.
The disappearance of the five booksellers reignited debate in Hong Kong about Communist Party influence in the former British colony. Hong Kong enjoys independent courts and freedom of expression under the "one country, two systems" principle hammered out when it was returned to China in 1997.
Meeting Lee
Hong Kong police said they replied to the Guangdong police saying that they want to follow up on the booksellers' situation and asked for a meeting with Lee as soon as possible.
Amnesty International said this week that some Southeast Asian countries are violating the principle of "non-refoulement" under pressure from the Chinese government. The principle prohibits the transfer of people to any country or jurisdiction where they would be at real risk of human rights violations or abuses, Amnesty said in a statement.
It cited the case of Jiang Yefei and Dong Guangping, two Chinese dissidents who had been recognized as refugees by the Office of the United Nations High Commissioner, who were deported from Thailand to China in November 2015. In July 2015, the Thai authorities forcibly returned to China some 100 individuals, mainly ethnic Uighurs of Chinese citizenship. The Uighurs "were at risk of torture and other cruel, inhuman and degrading treatment or punishment upon return," Amnesty said.
Before it's here, it's on the Bloomberg Terminal.
LEARN MORE