Carney's Investor Guide Awaited as U.K. Inflation Outlook Fades
by
BOE governor will present quarterly projections in London

Economists say BOE will leave key rate at record low 0.5%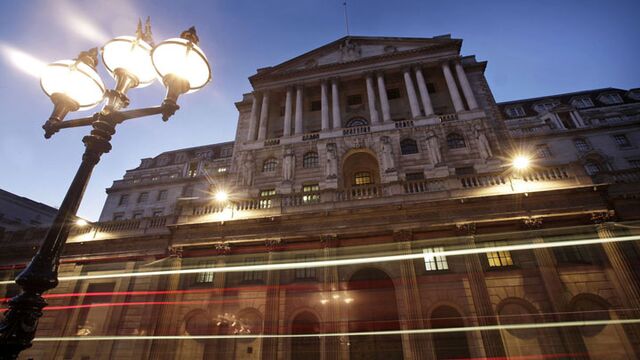 What's the probability of a Bank of England interest-rate increase this year?
Governor Mark Carney will offer some insight when he presents the central bank's latest economic projections at a press conference in London. While the Monetary Policy Committee probably voted 8-1 again to keep the key rate at a record-low 0.5 percent, a lot has changed since the last Inflation Report in November.
One big move has been the outlook for borrowing costs.

The global backdrop to Thursday's announcement is oil close to a 12-year low, market volatility and concern about China and other emerging-market economies. That's combined to push bets on the timing of a rate increase back to 2018. While Carney said last month that it's not time to tighten yet, he may signal investors are too sanguine about the prospects.
Elsewhere, other central banks have been busy, with the Federal Reserve lifting its key rate, the Bank of Japan implementing negative rates and the European Central Bank signaling more stimulus is in train.
In the U.K., inflation that's barely above zero is at the center of the case for maintaining emergency settings. The slide in oil means 2016's forecast will probably be cut again.

A number of MPC members have said they want to see more evidence of strengthening wages before raising rates. Pay growth has tailed off in recent months, even as unemployment dropped to the lowest in almost 10 years.

Last month, there was speculation that Ian McCafferty -- who's been voting for a 25 basis-point increase since August -- would reverse his call. He stuck to his position and cited a drop in the pound as an upside risk for prices.

And there's more for the hawks.
In November, the BOE predicted inflation would overshoot its 2 percent target over the medium term, unless policy was tightened earlier than investors anticipated. That overshoot may look even bigger in February's predictions. The chart below shows the National Institute for Economic and Social Research's prediction that inflation would reach 2.6 percent in 2019 if the key rate only rose in line with market expectations.

All eyes on Carney then. Policy announcement at noon in London, press conference 30 minutes later.
Before it's here, it's on the Bloomberg Terminal.
LEARN MORE