Cameron Lobbies Poland as Survey Shows 9-Point Lead for `Outs'
by , , and
EU proposal would curb benefits for non-U.K. citizens

YouGov online poll shows 19 percent of voters still undecided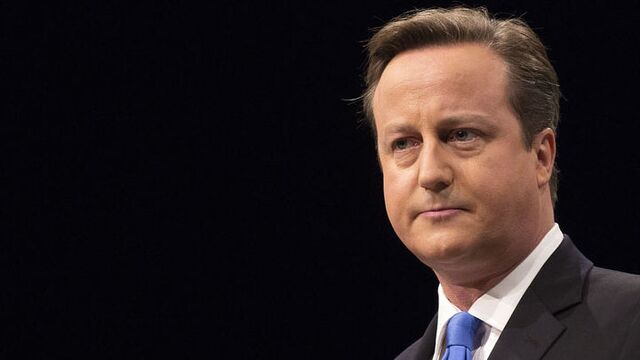 British Prime Minister David Cameron held talks in Poland on Friday seeking to overcome hostility to his proposal to cut welfare for eastern Europeans as a poll showed a nine-point lead for his domestic opponents aiming to take the U.K. out of the European Union.
QuickTake Poland's Populist Turn
The U.K. leader aimed to win round his Polish counterpart by arguing that a potential four-year curb on aid for EU foreigners living in Britain may stem the exodus of highly-qualified workers from ex-communist countries such as Poland and Bulgaria, according to three officials familiar with the talks who asked not to be identified because the deliberations are private. Cameron's goal is to break down EU resistance that could scuttle the plan, which is key to a deal on his demands for Britain to remain in the 28-nation bloc.
"We want to see full strategic partnership between Britain and Poland," Cameron told reporters before talks with Polish Prime Minister Beata Szydlo in Warsaw. Without addressing the migration issue, Cameron said the two countries shared a common vision of Europe.
Cameron has less than two weeks to win over fellow leaders before they meet for a summit in Brussels. The prime minister needs to get the deal approved before holding a referendum on U.K. membership as early as June 23. Following his talks with Szydlo, Cameron will travel to Copenhagen to meet the head of Denmark's government, Lars Lokke Rasmussen.
Support for 'Out'
After two days of British newspaper headlines attacking Cameron's deal with the EU, a poll showed an increase in support for Britain's "Out" campaign. Forty-five percent of respondents were in favor of leaving the EU and 36 percent wanted to remain inside, with 19 percent undecided, YouGov Plc said on its website. YouGov polled 1,675 potential voters online on Feb. 3 and 4.
"It remains to be seen whether this is the start of a new trend or a knee-jerk reaction to disappointment with the deal," Allan Monks, an analyst at JPMorgan Chase in London, wrote in a note to clients. "At this stage the risk of a vote to leave appears real."
When people were asked how they would vote if Cameron's deal were ratified, the gap narrowed, with 41 percent saying they would vote to leave, and 38 percent saying they would vote to stay. The number of undecideds was unchanged.
The EU's proposal this week would restrict the welfare-state benefits, shield Britain's financial industry and grant more powers to national parliaments. Eastern European nations have argued the welfare plan would discriminate against their citizens.
The draft, which would allow the U.K. to suspend benefit payments if it can prove exceptional pressure from the influx of European workers, has met with cautious approval. Germany and Poland said a deal among the EU's leaders would be feasible in February. Bulgaria said it wouldn't support the plan in its current form, while Hungary warned against potential prejudice.
Some of Cameron's social proposals still "need to be worked out," Szydlo said on Friday morning. Poland backed plans to make the EU more efficient and less bureaucratic, she said.
The next two weeks are crucial as Cameron pursues talks with fellow government chiefs while officials in Brussels comb through the finer points of the draft settlement and make changes.
Diplomatic Efforts
Cameron will address heads of the European Parliament's political groups on Feb. 16, his office said on Twitter on Thursday. That's two days before leaders meet for the summit in Brussels and attempt to thrash out a final deal, which requires backing from all 28 to take effect.
The migration proposal is "an issue that was raised in these countries in their domestic politics about people leaving their shores," U.K. Chancellor of the Exchequer George Osborne said in an interview in Rome on Wednesday. "Individual countries can come to their own conclusions about this."
The U.K. may seek to win backing by saying that all EU countries could apply the emergency benefits ban.
While "this mechanism is of course tailor-made to the U.K. situation and it is a response to one of the issues that the prime minister raised," if passed the "legislation will be applicable to others," European Commission spokesman Margaritis Schinas told reporters in Brussels earlier this week.
Before it's here, it's on the Bloomberg Terminal.
LEARN MORE