Carney Sees Unforgiving World as Inflation Outlook Cut Again
by , , and
Officials see inflation below 1% until the end of the year

McCafferty unexpectedly drops call for higher borrowing costs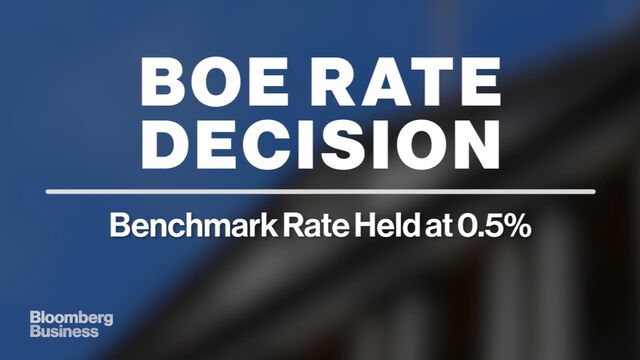 Mark Carney cited a turbulent global economy as the Bank of England cut its inflation forecast once again and the sole policy maker who had been calling for higher interest rates changed his mind.
The BOE governor said inflation will average just 0.8 percent this year, climbing to the 2 percent target in 2018. While investors now see a chance of a rate cut this year, Carney discounted the idea, saying it's "more likely than not" that the next move will be a hike from the current record low of 0.5 percent.

"As one of the most open economies in the world, the U.K. cannot help but be affected by an unforgiving global environment and sustained financial-market turbulence," he said at a press conference in London. "We will do the right thing at the right time on rates."
Carney spoke after the Monetary Policy Committee voted 9-0 to keep rates on hold, with Ian McCafferty unexpectedly abandoning the call for higher borrowing costs that he'd held since August. Plunging oil prices and slowing global growth stemming from a deteriorating Chinese economy are weighing on U.K. inflation, adding to concerns that include weakness in pay growth.
The pound was trading at $1.4591 as of 3:47 p.m. London time, down 0.1 percent from yesterday. Sterling was 0.7 percent weaker against the euro at 76.56 pence.
"The MPC judges the risks to the central projection to be skewed a little to the downside in the near term, reflecting the possibility of greater persistence of low inflation," the committee said on Thursday. "Low realized inflation will continue to moderate the increase in wage pressure in the near term."

While the rate decision was forecast by all economists in a Bloomberg survey, the vote switch by McCafferty was predicted by just three out of 25. Economists at ABN Amro and IHS Global pushed back their forecasts for a rate increase to February 2017 from November 2016 after the unanimous vote.
"Given the global uncertainty and signs that domestic cost pressures aren't building fast, McCafferty doesn't see any need to raise rates now," said Paul Hollingsworth, an economist at Capital Economics in London. "We could see him reintroduce his vote as inflation gets toward around 1 percent at the end of the year and potentially after a European Union referendum vote, assuming that does happen in June."
Central banks the world over are deliberating how to handle slowing consumer prices. The U.S. Federal Reserve has signaled it may put off a March rate hike and the Bank of Japan has introduced negative rates. European Central Bank President Mario Draghi, whose institution is considering adding fresh stimulus in March, said on Thursday that policy makers must not "surrender" to low inflation.
BOE officials said emerging markets are likely to grow "more slowly than in recent years" and saw negative risks to the world economy.
In addition to the global headwinds, there's also Britain's upcoming vote on its EU membership. Carney insisted that officials wouldn't wade into the debate, saying "it serves no one to talk at length about the specifics of those plans in advance." The bank would reveal its plans afterward, as it did following the Scottish referendum, he said.
Rate Bets
While the BOE signaled that a rate increase is still some way off, the MPC forecast shows inflation rising above the 2 percent target in two years. Carney stressed that officials are looking for inflation to return to the goal and stay there, and said higher borrowing costs are likely within three years.

Investors took a dimmer view: they don't see a full quarter-point increase to the official bank rate until the third quarter of 2018. Moreover, an analysis of the path of rates using the OIS curve shows the probability of a cut outweighing that of a hike this year.
Officials see inflation, which was 0.2 percent in December, at 1.2 percent in the first quarter of next year, down from a projection of 1.5 percent in November. Price growth is forecast to gradually pickup after that, reaching 2.1 percent in the first quarter of 2018 and 2.2 percent a year later.
Subdued Wages
Wage growth was also revised down, with the MPC seeing pay increases of 3 percent this year, compared with a 3.75 percent forecast in November.
It also lowered its growth expectations, predicting an expansion of 2.2 percent this year, down from 2.5 percent in November. The MPC sees growth of 2.4 percent in 2017 and 2.5 percent in 2018.
The BOE's forecasts were based on 25 basis-point rate increase in the second half of 2017 and the benchmark reaching 1 percent in the third quarter of 2018.
"Governor Carney went to great lengths to dismiss market concerns that the next move in interest rates is likely to be downward," said Peter Dixon, an economist at Commerzbank AG in London. "Although we buy the view that the next move in rates is up, the most obvious risk is that rates remain lower for longer than hitherto supposed."
Before it's here, it's on the Bloomberg Terminal.
LEARN MORE