The World's Biggest Human Migration Is a Boon for Fuel Consumption
Bloomberg News
Societe Generale sees Chinese new year travel lifting demand

Bank sees 88% of transit via roads, boosting gasoline use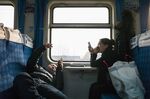 More than a billion people will travel for China's new year holiday in the world's largest human migration, boosting fuel demand in the nation's own driving season, according to Societe Generale SA.
The Chinese will make about 3.2 billion individual trips by road during the 40-day period known as Chunyun, which this year marks the change in the zodiac from sheep to monkey, the bank said in a report Thursday. The travel, which for many in the nation will represent the only annual trip home, spurs a "significant" increase in gasoline demand, analysts including Mark Keenan said in the note.

The Chinese New Year holiday, also known as Spring Festival, shuts down the world's second-largest economy for a week. Apart from road trips, a total of 42 million individual voyages by air and 258 million one-way train journeys are taken over the period that started Jan. 24 this year, SocGen said, calling the numbers "incredible."
"The impact of Chinese New Year on the apparent demand for Chinese oil products is significant and is increasing," the analysts said in the report. "With the Chinese New Year being the largest human migration on Earth and with 88 percent of movement occurring by road, the most pronounced impact occurs in gasoline."
Over the last five years, gasoline demand during the holiday period has increased 242,000 barrels a day above the annual daily average, according to the report. China's apparent demand for the fuel was about 2.7 million barrels a day in 2015, according data compiled by Bloomberg. The Asian nation is the world's largest auto market and the second-biggest oil consumer. Demand for jet fuel increased an average of 75,000 barrels a day, SocGen estimates.
Car Ownership
In the U.S., the world's largest oil user, gasoline demand typically rises during the summer driving season that starts at the end of May. The most recent ownership data show there are 809 cars per 1,000 people in the U.S. compared with 128 in China, according to the bank. China's population is about four times that of the United States.
"This, when combined with the recent record in December 2015 car sales of 2.4 million vehicles, suggests the Chinese driving season is likely to continue to grow significantly in importance and develop into a key price driver," the bank's analysts wrote.
— With assistance by Sarah Chen, and Jing Yang
Before it's here, it's on the Bloomberg Terminal.
LEARN MORE