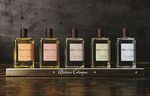 When French natives Sylvie Ganter and Christophe Cervasel decided to create their own fragrance business, they started in New York City. The couple, who met a decade ago while working in the U.S., discovered a shared penchant for cologne, a style of fragrance invented in 18th century Germany. Once favored by European royalty, it's suffered recently from a reputation as a down-market cousin to French perfume. Both are a blend of essential oils and alcohol. The greater concentration of essences in perfume gives it more staying power. "I always wore cologne, but I was frustrated because it didn't last," says Ganter, who previously worked in the perfume divisions of luxury groups LVMH and Hermès.
The couple became acquainted when Cervasel hired Ganter to work for a company he owned that developed perfumes under license for fashion brands. Soon afterward they fell in love and quit their jobs to start a business. They sold their apartments to raise money and in 2009 introduced Atelier Cologne, a collection of highly concentrated colognes that rival perfume's staying power but still have the fresh citrus scents that are cologne's hallmark.

Drawing on the expertise of laboratories in the French perfume capital of Grasse, they concocted their own formulas, adding notes of cedar, ginger, jasmine, and vanilla to the citrus. For each fragrance, they wrote stories describing the image it's meant to evoke. Orange Sanguine, for example, recalls coffee on a seaside terrace in Italy, with "the scent of fresh oranges diffusing in the yellow heat."
Kelly St. John, who runs the perfume and cosmetics division at Neiman Marcus, says she remembers Ganter's sales pitch for the brand, over breakfast in Manhattan in 2009. After talking about her passion for cologne, Ganter brought out samples, each wrapped in parchment and bound with a hand-tooled leather band. "It was a beautiful story, with tremendous handcrafted details, an entirely new way to do fragrance," St. John says. Neiman Marcus and Bergdorf Goodman became the first retailers to carry Atelier Cologne. St. John says it's been a hit with customers who want "exclusive niche fragrances they can't find anywhere else."
Although Atelier Cologne has headquarters in Paris and its scents are French-made, Ganter and Cervasel say they focused first on the U.S. because Americans are more willing than the French to experiment with new products. "France is the most difficult market in the world," Cervasel says. With U.S. retailers, Ganter says, "things happened quickly. That's not very French."
Atelier Cologne opened its first store in Manhattan in 2011. Since then it's opened one in Brooklyn, three in Paris, and another in Hong Kong. All feature industrial-chic workbenches and metal stools, part of an effort to position the brand as a hip alternative to traditional perfumes.
Most clients are in their 30s, still young but able to afford its prices: A 100-milliliter (3.4-ounce) bottle ranges from $120 to $250. Atelier Cologne's fragrances are unisex, and some 80 percent of customers are women. "The whole ambience is really attractive," says Lora Lin, a student from Taiwan browsing in the Atelier Cologne boutique near Paris's Place de la Concorde on a recent afternoon. Citrus-based cologne "has become my signature scent," she says.
Atelier Cologne posted €14 million ($15.3 million) in sales last year, more than half in the U.S. and Asia. Its scents are sold in more than 40 countries by department stores and specialty retailers such as Sephora. Armed with €8 million from angel investors and a French state-run investment bank, Ganter and Cervasel plan to open more than 30 additional outlets in cities including San Francisco, Dubai, and Shanghai. They're also working with chains such as Mandarin Oriental Hotel Group to provide cologne-based ambient scents in guest rooms and lobbies.
Could Atelier Cologne be snapped up by one of the big luxury houses that Ganter and Cervasel once worked with? Cervasel says they've already received a few overtures. But, he says, "when you're creative, you want to stay independent."
The bottom line: With millions in fresh funding, Atelier Cologne plans to expand in the U.S., Asia, and the Middle East.
Before it's here, it's on the Bloomberg Terminal.
LEARN MORE