The Startup Tracking 'Valuable' Doctors for Big Pharma
Zephyr Health says it can determine the value of a doctor's prescription pad.
By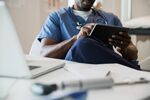 Physicians are worth billions of dollars to drugmakers, who see the prescription pad as a path to profits. But it's growing harder for Big Pharma to get doctors' appointments. Since 2010, Obamacare has slowly curbed the mass travel junkets and fancy meals that drug companies once used to sway the doctors most valuable to their efforts to sell products.
Pharmaceutical companies are now searching for ways to refine their marketing efforts, to target the doctors most compatible with the medications they're pitching. "You're desperate for data to make those key decisions," says Lance Scott, a former marketing manager at medical-device maker Abbott Laboratories. "But while there's lots of data out there, it's really challenging to bring it together." Scott's now chief executive officer of Zephyr Health, a data analytics startup promising to help drugmakers identify key medical personnel and find ways to approach them.
Zephyr builds digital dossiers on individual doctors. It starts with basic information on prescription patterns from data clearinghouses such as IMS Health and Symphony Health Solutions. Then its software, with some human assistance, scours the Web for more details. For example, a calendar of speakers scheduled for a prominent medical conference may point to a specialist well-regarded by her peers. Steady publication by another doctor in scientific journals offers clues to the kind of research he does. A physician who's a board member of an industry association might have a hand in writing treatment guidelines—and thus be the focus of a drug company's outreach.
Gathering these strands, Zephyr generates profiles that score each doctor's influence and ability to drive sales on a scale of 1 to 10. The software's slick, mobile-friendly interface lets a drug company search in broad or specialized disciplines (from "oncology" to "non-Hodgkin lymphoma") and ranks each person's influence in the chosen field. It also specifies whether a doctor appears to influence colleagues or simply writes a lot of scripts. The data can guide decisions about whom to invite to a conference or whose prescription pad is most valuable, says William King, Zephyr's chairman. "Depending on where I am in the drug's life cycle," he says, "being able to segment and engage at the right time is critical."
Zephyr says it has 10 major clients, including drugmakers Amgen and GlaxoSmithKline, as well as device maker Stryker. The companies have confirmed they're customers but wouldn't say how they use the software.
King, a former sales and marketing director at Johnson & Johnson, founded Zephyr in 2011, frustrated by the fragmented marketing information at his disposal. "I invested in tons of data, and yet I had no way of bringing all that data together," he says. The company has raised about $34 million in venture funding from investors including Google Ventures and Kleiner Perkins Caufield & Byers. (It wouldn't say whether it's profitable.) Lynne Chou, a partner at Kleiner Perkins who worked with Scott at Abbott, says that within minutes Zephyr's software can compile contact lists her marketing teams used to need months to build.
Some companies already have more information than they know what to do with, says Pratap Khedkar, managing principal of consulting firm ZS Associates. Many drug and medical-device makers already have a lot of that data: "Everyone in Silicon Valley wants to start with data. They think, If we get all the data, then magic will happen," Khedkar says. More important, he argues, is asking the right questions, which can often be answered with just a few sources.
Scott says Zephyr updates its physician profiles in near-real time, a serious advantage over hand-culled databases. His 100-employee team is working to refine the software's predictive capabilities and add more data on which patients take what drugs. "There's nothing private anymore," says Chirag Patil, a neurosurgeon at Cedars-Sinai in Los Angeles. While doctors may not be exactly psyched about Zephyr tracking their every move, King says, even they should appreciate the company's ability to narrow marketing campaigns. For a physician, "working with Pharma is akin to getting pecked to death by a flock of ducks," he says. "Do you want nine salespeople queued up to call on you?"
The bottom line: Zephyr has raised about $34 million in venture funding to track doctors on behalf of drug and medical-device makers.
(Updated final paragraph to correct attribution of King's quote.)
Before it's here, it's on the Bloomberg Terminal.
LEARN MORE