business
Money Managers Bleed Cash After Investors Pull Billions
By
Popularity of indexing creates more losers than winners

Sovereign wealth withdrawals contribute to manager woes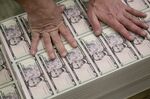 Money managers are having trouble hanging on to money. 
Franklin Resources Inc. said Wednesday that investors withdrew $20.6 billion in the fourth quarter, the latest asset manager to highlight the issue of redemptions. Affiliated Mangers Group Inc. said on Tuesday that it had outflows of $6.8 billion, while Waddell & Reed saw $5 billion in withdrawals, contributing to the biggest drop in its stock since the financial crisis of 2008. 
Money managers are hurt by slumping stock markets worldwide, which have prompted investors to dump anything perceived as risky. The firms are getting squeezed by sovereign wealth funds in need of cash after oil prices plunged, and the shift by investors from active funds to cheaper ones that track indexes. The preference for passive products and exchange-traded funds has created winners, including Vanguard Group Inc. and BlackRock Inc.
"Investors have decided if they are not going to get real outperformance from their managers, they might as well opt for lower fees," said Ben Phillips, a partner at the consulting firm of Casey Quirk & Associates LLC.

The 19-member Standard & Poor's index of custody banks and asset managers lost 16 percent this year through Feb. 2, bringing the measure back to where it was in April 2013, according to data compiled by Bloomberg.
Hank Hermann, chief executive officer of Waddell & Reed, blamed difficult markets as well as the subpar performance at some of his firm's funds, for lower earnings and the outflows in the three months ended Dec. 31, the sixth straight quarter the company has seen redemptions.
Sovereign Funds
"Heightened market volatility has been a consistent theme through 2015, challenging performance and causing anxiety with investors," he said in Tuesday's earnings report.
Franklin's CEO Greg Johnson also cited volatility and performance issues to explain his firm's latest outflow. In the previous quarter, Franklin saw investors pull $28 billion, the biggest quarterly redemption in its history. The company's biggest funds have bets on emerging-market currencies and energy that have lost ground. Franklin's assets under management fell 13 percent over the past year.
Aberdeen Asset Managment Plc last month cited the cash needs of sovereign wealth funds as one of the reasons the firm experienced 9.1 billion pounds ($13.2 billion) of withdrawals in the fourth quarter. The wealth funds from oil-producing nations, which boosted their investments when energy prices were high, are taking money back to fill the budget shortfalls created by cheap oil.
"Sovereign wealth funds were set up for a rainy day and that rainy day has arrived," Aberdeen CEO Martin Gilbert said on a conference call in January. Gilbert in November said that 2016 would be a tough one for the asset management business if oil remained at $45 to $50 a barrel. It sells today for about $30.
Phillips of Casey Quirk estimated that about 70 percent of net global flows in 2015 went into passive products, a business dominated by a small number of players. Vanguard, known for its low-cost index funds and exchange-traded funds, collected a record $236 billion in deposits last year, including more than $58 billion in the fourth quarter.

BlackRock, DoubleLine Win
BlackRock, the world's largest money manager, won $53.8 billion in the fourth quarter and $152 billion in 2015, the company said last month. The money flowed into a mix of active and passive products, the firm said. BlackRock owns iShares, the world's largest provider of ETFs, almost all of which track indexes. 
Some active managers bucked the trend. T. Rowe Price Group Inc., which specializes in stock funds, attracted $2.5 billion in the fourth quarter. Invesco Ltd. got $4.1 billion in flows in a mix of active and passive funds.
Jeffrey Gundlach's DoubleLine Capital had net inflows of $1.95 billion in January, led by $1.67 billion to the DoubleLine Total Return Bond Fund, which grew to $54 billion in assets, the firm said in a statement on Wednesday.
Phillips said investors will still send money to active managers who can deliver good performance or returns that are not correlated with traditional assets classes.
"People don't want to pay up for plain vanilla," he said. "They want something sweeter."
Before it's here, it's on the Bloomberg Terminal.
LEARN MORE