Lions Gate to Restart Talks on Possible Starz Acquisition
by and
Early-stage discussions taking place between company advisers

Lions Gate came close to buying Starz at end of 2014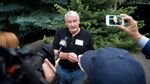 Lions Gate Entertainment Corp. has restarted talks to acquire Starz, according to people familiar with the matter, about a year after buying a stake in the pay-TV network company.
Discussions, which are taking place between advisers of both companies, are at an early stage and may not result in a deal, said the people, who asked not to be identified because the information is private.
Lions Gate held a board meeting Tuesday to discuss various proposals on how to move forward with a potential acquisition, the people said. Lions Gate is schedule to report earnings Thursday, and executives are focusing on that before turning their attention to Starz, they said.
Lions Gate nearly acquired Starz in December 2014 but decided not to bid because of valuation and tax concerns, people familiar with the matter said at the time. Billionaire John Malone, who controls Starz's voting shares, is interested in merging with Canadian-domiciled Lions Gate to lower the company's taxes.
Malone wanted to wait three years from when Starz began trading as an independent company to avoid potential Internal Revenue Service problems with changing the company's tax base, the people said. Liberty Media Corp. completed its spin off of Starz on Jan. 11 2013.
Representatives for Lions Gate and Starz declined to comment.
Starz swapped 4.5 percent of its stock for 3.4 percent of Lions Gate's outstanding shares last year. The deal put Malone on Lions Gate's board, gave it a potential new outlet for its growing television-production business, and led to speculation that the move was a precursor for a full acquisition this year. In November two other companies in the cable billionaire's empire, Liberty Global Plc and Discovery Communications Inc., agreed to buy 6.8 percent of the studio.
Malone, who has expanded rapidly in Europe over the past decade, has been buying content assets so he can hold the rights to TV programs and movies instead of just owning the cable pipes that distribute them.
AMC Networks Inc. has also expressed interest in acquiring Starz, people familiar with the matter told Bloomberg in September. AMC hasn't moved forward because of price concerns, the people said at the time.
Starz, based in Englewood, Colorado, climbed 1.8 percent to $29.19 at the close in New York, giving the company a market value of about $3 billion. Lions Gate, based in Santa Monica, California, rose 1.8 percent to $25.63, giving it a market value of about $3.8 billion.
Before it's here, it's on the Bloomberg Terminal.
LEARN MORE