Ireland's Kenny Starts Election Campaign in 'Brexit' Shadow
by
Irish prime minister names February 26 as polling day

Irish-German bond spread expands to widest since September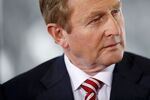 Irish Prime Minister Enda Kenny fired the starting gun in his campaign to win a second straight term, in the first election since the nation exited an international bailout program over two years ago.
In Dublin on Wednesday, Kenny, 64, named election day as Feb. 26, almost five years after he swept to power amid the worst recession in the nation's modern history.
"Five years ago, Ireland was on the verge of collapse," Kenny said in a video appeal to voters. Now, "there is no more troika, no more bailout, no more dead banks."
Kenny is campaigning on a platform of maintaining stability as a referendum on EU membership in the neighboring U.K. looms, coupled with his record of restoring Ireland's economic sovereignty by exiting the bailout. Similar messages failed to work for governments in Spain and Portugal, which lost their majorities in elections over the past six months. By contrast, Kenny is track to be re-elected, polls show, though he may need help to keep a hold on power.
"The ruling coalition appears to be in pole position to win another term in office," said Colin Bermingham, an economist at BNP Paribas SA in London. "If it falls just short of a majority, it could bring a smaller party or independents into government."
The spread between Ireland's 10-year benchmark government bond and German securities of a similar maturity widened to 67 basis points, the biggest gap since September, from 44 basis points just over two weeks ago.
Support for the ruling Fine Gael-Labour Party coalition is running at 39 percent, according to a Red C poll published in the Sunday Business Post on Jan. 31, down from the 55 percent the two parties captured in 2011. To win a second term, the two parties need to win about 44 percent, according to Philip O'Sullivan, an economist at Investec Plc in Dublin.
Under Kenny, the nation has regained its title as the fastest-growing economy in the euro region, and Ireland's 10-year bond yields have fallen to 0.97 percent from 14.2 percent at the peak of the crisis in 2011.

'Brexit' Vote
The election campaign is playing out as the U.K. , Ireland's biggest trading partner, prepares to vote on staying in the EU, complicating the nation's economic prospects. Irish unemployment is still close to double the rate before the 2008 crash, and taxpayers have been hit by new water and property levies.
Opposition parties say Kenny merely implemented the bailout program negotiated by the previous administration, and deserves little credit for the economic revival.
"Fine Gael and Labour are not responsible for any recovery," Micheal Martin, leader of Fianna Fail, the biggest opposition party, told reporters in Dublin. "They are claiming credit for measures they opposed before the last election."
Should he fall short of a majority, Kenny may be able to call on support from independents or another smaller party to keep power. Odds indicate that Kenny has a 95 percent chance of re-election, albeit with a vastly reduced majority.
At this point, there's no clear alternative bloc to Kenny's alliance. Support for Fianna Fail, once one of Europe's most successful parties, is hovering at about 20 percent. Its leadership has so far ruled out governing with Sinn Fein, the former political wing of the Irish Republican Army that's turned into an anti-austerity crusader and led the polls as recently as a year ago.
"With rising support for Fine Gael, it is difficult to see any government that does not include this party – so the status quo in terms of economic and financial policy should be maintained," said Conall Mac Coille, chief economist at Davy, Ireland's largest securities firm. Still, "a Fine Gael/Fianna Fail coalition or a stalemate leading to political uncertainty cannot be ruled out."
Before it's here, it's on the Bloomberg Terminal.
LEARN MORE