Indonesian Finance Minister Bullish on Rupiah Trajectory
by
Currency to trade in 13,500-13,600/USD range: Brodjonegoro

Government focus still on stability as well as growth, he says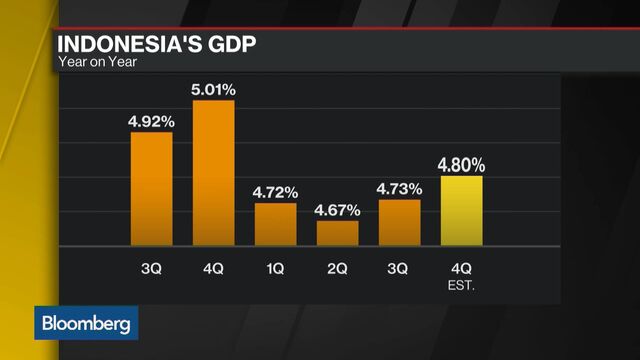 The rupiah will strengthen this year as policy makers maintain a focus on macroeconomic stability even as growth picks up, according to Indonesian Finance Minister Bambang Brodjonegoro.
The currency should trade around the 13,500 to 13,600 a dollar level depending on global conditions, Brodjonegoro said in an interview with Bloomberg TV in Hong Kong on Wednesday. That's more bullish than the median estimate of 30 analysts surveyed by Bloomberg, who see the rupiah ending 2016 at 14,542. The currency fell 0.6 percent to 13,775 as of 2:28 p.m. in Jakarta, according to prices from local banks.
The rupiah has been little changed this year, outperforming all but two emerging-market Asian currencies, amid Chinese market turbulence and after the Federal Reserve raised interest rates in December. Bank Indonesia's resumption of its easing cycle last month has helped lure inflows to the country's sovereign bonds. Increased infrastructure spending will spur economic growth from an estimated 4.8 percent in 2015, Brodjonegoro said, without giving a forecast for this year.
"Although we already see some room to speed up growth, we still put the emphasis on stability," Brodjonegoro said. "We already see part of the hysteria of a Fed rate hike has been priced in before. So that's why the rupiah has been performing well."
More Undervalued
The rupiah's resilience in 2016 contrasts with its 30 percent plunge in the three years through 2015 amid falling commodity prices, a slowing Chinese economy and anticipation of tighter U.S. monetary policy.
The currency had been more undervalued than most of its peers and should be fairly stable, according to Ebury Partners Ltd, the most-accurate rupiah forecaster in Bloomberg rankings in the third and fourth quarters. Ebury predicts the currency will end the year at 13,800 a dollar.
Royal Bank of Canada sees the rupiah weakening 12 percent to 15,600 a dollar by the end of 2016 as Indonesia's weak trade performance suggest it's overvalued and the central bank will be reluctant to cut its benchmark rate too aggressively, Sue Trinh, head of Asian foreign-exchange strategy in Hong Kong, said in a research note on Wednesday. Indonesian exports fell for 15 months through December. Whether the government is able to move forward with major infrastructure projects will be key to the currency's performance, said Trinh.
Indonesia is due to release gross domestic product figures for 2015 on Friday. The economy expanded 4.8 percent in the three months through December and 4.7 percent last year, according to the median estimates in a Bloomberg survey. That would be the slowest annual growth since 2009.
Before it's here, it's on the Bloomberg Terminal.
LEARN MORE