Autos
In the Pit With the Ford GT During Its First Race at Daytona
The much-anticipated, next-gen super-car tries to recapture that 24 hours of Le Mans magic.
by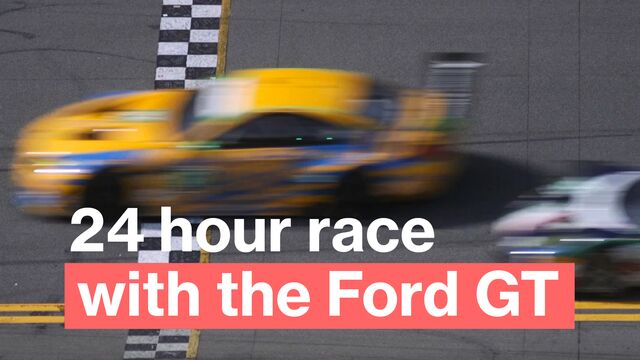 Chip Ganassi is a man who knows how to hedge his bets.  
The maestro of Chip Ganassi Racing is the guy who ran the pair of much-hyped Ford GTs that finished in the middle-middle of the pack last weekend at the Rolex 24 at Daytona, Fla. His cars placed seventh and ninth in their class, respectively, and much farther down in overall standings. They suffered gearbox problems, among other things. 
Still, Ganassi had diversified his holdings by adding a two-car Ford Ecoboost Prototype team to the race. That team finished fifth overall—respectable, considering Honda's win and Corvette's dominance throughout the ranks. "Smart move, Ganassi," I heard more than one long-timer mutter at the track last weekend. 

Endurance racing veterans in general seemed circumspect about Ford GT's return. The idea that the descendant of the 1966 Le Mans-winning model would win Daytona in its first run was possibly overoptimistic. Not that there's anything wrong with that. The first race out of the gate is always a little rocky.
"It's not a fiasco," said Tom Kristensen, nine-time Le Mans champ and grand marshall of the 2016 Rolex 24. "They are young."

These GTs are the super-car siblings of the production version 2017 Ford GT we saw in Detroit. Success on the track is meant to raise Ford's status by creating a halo effect of excitement to shine light on other Ford models, as well as the brand's identity. The production GT has a 3.5-liter V6 engine that gets 650 horsepower and will hit 60 miles per hour in right around three seconds. (These cars, by comparison, drive just under 200mph for 24 hours straight. It's a difference in extremes.) Critics have lauded its exotic style and disciplined engineering. Ford will make only 10 or so of them this year.


Ganassi takes a long view when it comes to races like these. The goal, he told me was—as always—to win. If you happen to lose some parts and get a little banged up along the way, so be it.
"It's a new car, so it's got a few little teething issues, but you know, we're working on it," he said. "That's what we're here for."
In fact, although many eagerly watched the Rolex 24 to see the birth of a new generation at Ford (they hoped), racing veterans viewed it merely as a slow wade into a modern racing story. Sebring, in March, will pose a fresh toe-in-the-water test. Le Mans, in June, could be the whole plunge.
There will be plenty of kinks to work out before then. Daytona's 3.5-mile track did more than enough to illuminate this.
"Racing is incredibly hard," Kristensen said. "The experience which will be brought in from any manufacturer here at the Rolex 24 is that you will evolve. Ford is going to win. It's a question of when."

That said, the weekend was quite a spectacle. Aside from Austin Formula 1, it's certainly the closest thing to European-style racing Americans will see on our shores. As the title sponsor, Rolex adds some class to the event, which many attend for the duration of the weekend. They bring six-figure Porsches and SUVs and barrels of beer onto the infield to as they watch the cars race through the night.
An hour before the race ended on Sunday morning, as pit crews in red jumpsuits were changing tires 100 meters (328 feet) below, the drone of the race was reaching an otherworldly pitch. Retired driver Murray Smith sat high in the Rolex suite and sounded rather practical about the whole thing.

"Keep running," said the British star, now a car-racing historian. We were in a plush room overlooking the finish line, surrounded by hundreds of winner's jersey-yellow roses. A bar was stocked with Laurent Perrier Demi-Sec and cheese imported from New York. The cool of the air conditioning and the fragrance of the blooms contrasted heavily with the noise and grease below. Murray had already determined, by how things were going, that the final results for Ford would lack luster. Still, he repeated advice like a mantra: "Just keep running. That's the only thing for them to do. It's their first race; nobody expected them to be competitive. They've got to keep running."
The racing public didn't seem to mind in any event. During the hours before the start, hundreds had crowded into the Ford garage, leaning around barriers to get cell-phone photographs and to better hear the instructions of team drivers as they practiced switch-offs. (There are eight or so per race; each pro drives for three or four hours at a time, depending.)

Ganassi had been holding court like Henry VIII: glad-handing supporters, smiling for a dozen television cameras, and signing autographs.
The mood at the finish was significantly quieter amid the Ford ranks. As fans pressed into the winner's circle, dancing in ticker tape next to Honda's Patron-emblazoned prototype, Ganassi and his team stayed to the sidelines. Ganassi hardly looked deflated.
"There's a lot of performance in the car that we haven't even tapped yet," he said.
March will come soon enough.

For the best in travel, food, drinks, fashion, cars, and life, sign up for the Pursuits newsletter. Delivered weekly.
Before it's here, it's on the Bloomberg Terminal.
LEARN MORE