GoPro Earnings Plunge After New Camera Fails to Impress
by
Fourth-quarter earnings, sales forecast sharply miss estimates

Mispricing of Hero4, non-intuitive software weigh on revenue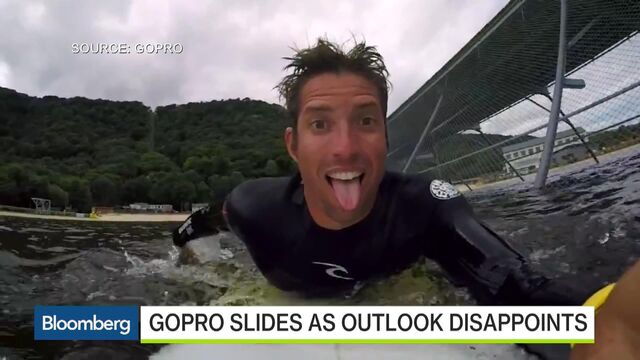 GoPro Inc. shares fell to their lowest ever after fourth-quarter earnings and a forecast for future revenue both were worse than analysts predicted.
The stock tumbled 8.7 percent to $9.78 at the close in New York, its lowest price since going public in June 2014. The shares have lost 90 percent after reaching a record $93.85 in October 2014.
Demand for GoPro's Hero camera line popularized by extreme-sports enthusiasts showing off their exploits, is starting to shrink. The latest model, the Hero4 Session, was introduced long before the critical Christmas holiday and suffered two price cuts before sales finally took off. The company has faced complaints that its editing software isn't user friendly and investors are worried about competition from the likes of Apple Inc. While GoPro generated excitement about its forthcoming drone, its launch date won't be until later this year.
"We were expecting bad and we got worse," said Charlie Anderson, an analyst at Dougherty & Co. "Investors aren't going to be looking for any profits. Most investors need to see more performance."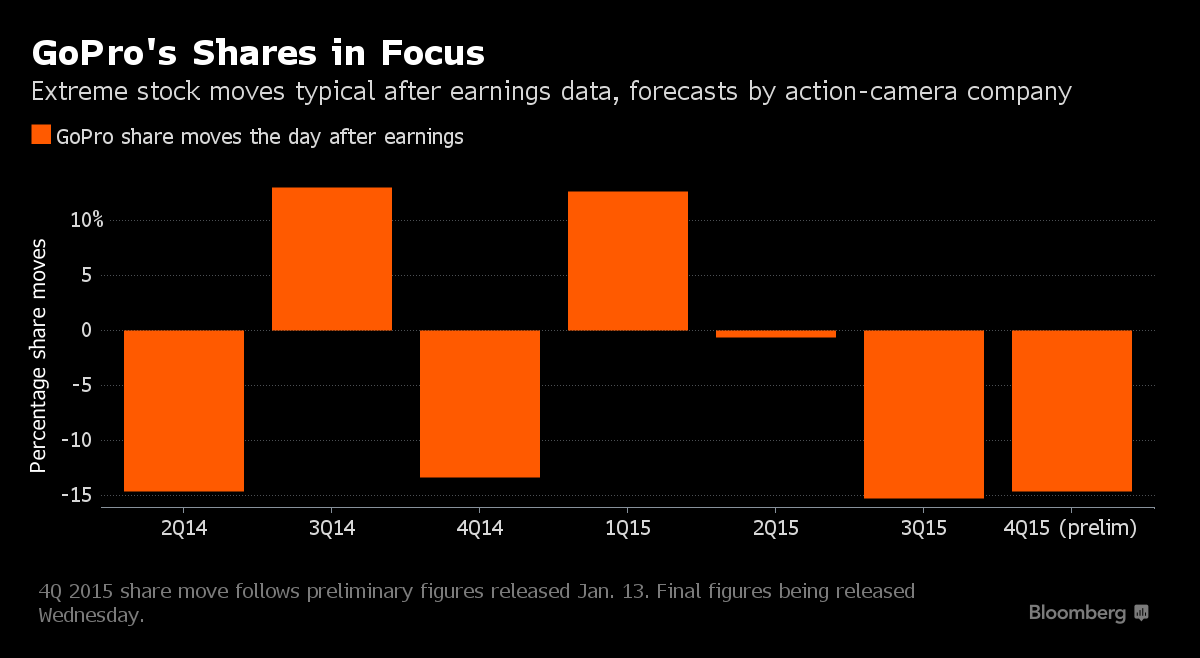 That has put pressure on Chief Executive Officer Nicholas Woodman to innovate to woo users beyond GoPro's core fan base of adventure enthusiasts and amateur filmmakers. Woodman is asking investors to be patient. The company is rolling out a new editing software package in March and the founder told analysts on a conference call that the next cameras will do a better job of connecting to smartphones and the cloud. The new drone, Karma, and the Hero5 camera will both be introduced later this year and GoPro also has several products in development in the field of virtual reality.
"We acknowledge the challenges facing our business," Woodman told analysts. "In 2016 we are committed to delivering the breakthrough experience we've all been waiting for."
All that innovation comes at a high price. Dougherty's Anderson said GoPro's level of spending is "staggering," estimating that the company will spend over half of its revenue in this year on operating expenses. 
Robert Cihra, an analyst at Sterne Agee, said the increase in operating expenses will likely drive large losses that will extend "well past" the first quarter. "It practically resets GPRO to a venture investment," he wrote in a note to analysts Thursday.
For the critical holiday shopping quarter, GoPro posted a loss of 8 cents a share, excluding certain costs, compared with a profit of 99 cents a share a year earlier. Analysts on average were projecting a profit of 1 cent, according to data compiled by Bloomberg. Revenue was $436.6 million, compared with the average estimate of $434.9 million after the company announced preliminary results Jan. 13, and said it would eliminate 7 percent of its workforce.
GoPro also announced that Chief Financial Officer Jack Lazar is stepping down. Brian McGee, who joined GoPro in 2015 from Qualcomm Inc., will succeed Lazar as CFO effective March 11, the company said.
GoPro's sales took a hit after it had to twice lower the price on its latest model, the Hero4 Session. By the time GoPro dropped the cost to $200 in December from the $400 introductory price in July, excess inventory had already piled up, hurting margins in the fourth quarter. That impact appears to be lingering, and GoPro is forecasting first-quarter revenue of $160 million to $180 million, compared with analysts' average estimate of $287.3 million.
'Mistakes Made'

GoPro "made some mistakes" with the Hero4 release, Jeff Brown, a spokesman for GoPro, said in an interview last month. The product was introduced too far ahead of the holiday season and there was very little marketing support, he said.
"The bear case is that the market growth has peaked and may be negative for a while," said Robert Stone, an analyst at Cowen & Co., who has a market perform rating on GoPro. "They need something to get people excited again."
Before it's here, it's on the Bloomberg Terminal.
LEARN MORE