Google Search Chief Singhal to Retire, Replaced by AI Exec
By
Successor John Giannandrea works on machine intelligence

Google CEO Sundar Pichai has highlighted AI as crucial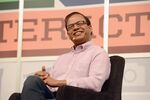 Google said its longtime search chief Amit Singhal is retiring and will be replaced by John Giannandrea, an executive who has worked on machine intelligence efforts.
Singhal joined Google in 2000 and has led the technical development of the Internet search engine since then. Improvements overseen by Singhal have helped make the eponymous web-search tool faster, smarter and able to peer into the innards of software running on mobile devices. At the same time, it was augmented with clever widgets like calculators and weather forecasts that materialize in response to certain queries.
QuickTake Artificial Intelligence
"When I started, who would have imagined that in a short period of fifteen years, we would tap a button, ask Google anything and get the answer," Singhal wrote in a Google+ post announcing his retirement. "My dream Star Trek computer is becoming a reality, and it is far better than what I ever imagined."
With Giannandrea's appointment, the technology may get smarter. The executive has overseen recent artificial intelligence efforts, including RankBrain, which saw Google plug an AI technology called a neural network into its search engine to boost the accuracy of results and an e-mail service called Smart Reply that automatically writes responses. Other work he has managed include efforts in image recognition and technologies that fetch information based on what users are doing with their devices, rather than what they're explicitly searching for.
Data Storehouse
Giannandrea joined Google in 2010 when it acquired a company he co-founded called Metaweb Technologies. Those assets became the basis for Google's knowledge graph, a vast store of information on hundreds of millions of entities that helps the search engine present factual data in response to certain queries. Singhal's last day is scheduled to be Feb. 26.
The elevation of Giannandrea represents a further emphasis on the importance of artificial intelligence to Google, a unit of Alphabet Inc. Chief Executive Officer Sundar Pichai said the technology has been key to recent efforts in search on mobile devices and personal assistant technologies.
"This comes thanks to our years of investments in areas like natural language processing, computer vision, knowledge graph and other areas," Pichai said on a recent earnings call. "The next wave will be powered by big advances in machine learning and artificial intelligence, an area where we believe we lead the industry."
Shares of Mountain View, California-based Alphabet fell 4 percent to $749.38 at the close.