GM Beats Estimates With SUVs in Demand From U.S. to China
by
U.S. automaker reports record net income of $9.7 billion

Shares fall as analyst sees investors avoiding auto stocks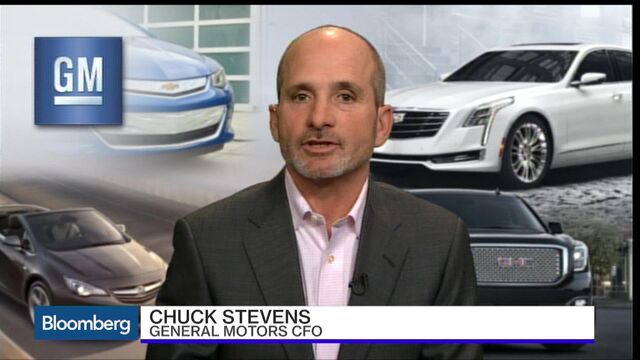 General Motors Co. reported fourth-quarter profit that beat analysts' estimates as strong light-truck sales in the U.S. and China helped boost margins in both regions. Shares fell amid another broad market selloff.
Adjusted earnings per share improved to $1.39 from $1.19 a year earlier, GM said in a statement Wednesday. The average of 14 estimates compiled by Bloomberg was $1.20. Margins were boosted in North America by sales of more expensive sport utility vehicles and pickups, which added $1.3 billion to quarter's revenue.
GM finished the year with a strong quarter that led to record net income of $9.7 billion for the year and shows why management felt it was able to raise its dividend and nearly double its share buyback plan last month. With profits improving, GM has been trying to woo investors with stronger returns and by giving them more cash back.

"It was a strong year on many fronts capped with record sales and earnings," Chief Executive Officer Mary Barra said in the statement.
The challenge for GM has been that, despite record profits and returning $5.7 billion to stockholders, investors have shunned the stock. Shares fell 13 percent this year through yesterday, when the stock closed at $29.65. After rising in early trading, GM fell 4.4 percent to $28.34 at 10:30 a.m. New York time -- well below the $33 price in the 2010 initial public offering.
Investors have limited appetite for auto stocks amid concerns that sales in the U.S. may be peaking, said Joseph Spak of RBC Capital in a note to clients. GM can keep improving profit margins, he said, but "even in a plateau scenario, we do wonder if the market will be willing to apply anything other than a trough multiple to earnings."
GM's earnings engine continues to be the U.S. market, where its sales of pickups and SUVs increased 16 percent last year. Profit in North America rose to $2.8 billion from $2.2 billion a year earlier. GM will pay its 49,600 UAW-represented employees as much as $11,000 apiece in profit sharing.
In addition to net income, GM set records for adjusted EBIT with $2.8 billion in the fourth quarter and $10.8 billion for the year.
Global sales were flat in the quarter at $39.6 billion, beating analysts' average estimate of $39.3 billion.

Equity income from the company's China joint ventures rose to $572 million from $511 million. Growth in the market has been slowing, but GM has pushed sales of more-profitable SUVs and luxury cars to boost earnings.

In Europe and South America, where GM has struggled to make a profit, the company continues to lose money. The European business cut its losses in the quarter to $298 million from $393 million. The South American business lost $47 million in the fourth quarter after making $89 million last year. GM lost a combined $1.4 billion in Europe and South America last year.
GM has been working to break even in Europe for more than 15 years. GM Chief Financial Officer Chuck Stevens told reporters this morning that cost cuts and models like this year's new Opel Astra compact will get the company on target to break even.
"The fundamental building blocks are in place to break even in Europe," Stevens said. "We're very confident we're going to achieve that."
GM's earnings per share for the quarter was $3.92, padded by $2.53 in special items. Most of the $4 billion was attributed to non-cash deferred tax assets in Europe.
GM's stronger results throughout 2015 led the company on Jan. 13 to raise its earnings forecast for 2016 by 25 cents a share, add to its share buyback plan and boost the dividend. Adjusted earnings per share will be $5.25 to $5.75 this year, GM projected then. Anticipating better profit, the board raised the stock repurchase plan to $9 billion from $5 billion and increased the quarterly dividend to 38 cents a share from 36 cents.
Confident Outlook
The decision to give more cash back to shareholders indicates that GM thinks it can keep increasing earnings even as management sees slower sales growth in its very profitable North American business and in China.
As GM returns cash to shareholders, the company also said last month that it is cutting capital expenditures. In a presentation to analysts at a Deutsche Bank auto industry, President Dan Ammann said the company could reduce its capital spending budget from $9 billion now to just under $8 billion in about 2020.

Stevens said GM has to just keep delivering results and investing in new technologies like electric drive and self-driving cars and wait for more investors to take notice.
"The best way to drive shareholder value is to execute the commitments that we have made," Stevens said. "If we execute that plan it will be reflected in the share price."
Before it's here, it's on the Bloomberg Terminal.
LEARN MORE