Germany's Merkel Pledges to Keep Funding Nuclear-Fusion Research
by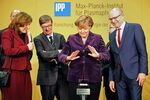 German Chancellor Angela Merkel said her government is committed to funding nuclear-fusion research as global energy needs keep growing.
"This money is well invested," Merkel told reporters during a visit to an experimental fusion reactor in the northeastern city of Greifswald, where she pressed a button to generate the machine's first burst of hydrogen plasma on Wednesday. "Maybe this moment will once be remembered as a milestone in fusion research."
The chancellor, a physicist by training, and about 200 visitors at the Wendelstein 7-X site watched at the Max Planck Institute for Plasma Physics control room as a video screen lit up with a bright flash. Research director Thomas Klinge said the burst was 10 times hotter than the sun. Scientists are seeking to make hydrogen fusion, which uses the atomic reaction that powers the sun, safe for civilian power generation.
Wendelstein 7-X is the world's biggest fusion device of its kind, according to the Max Planck Institute. Germany's federal government has funded about 80 percent of the Greifswald research centers 1.1 billion-euro ($1.2 billion) budget over the past 18 years, said Isabel Milch, a spokeswoman for the institute.
Before it's here, it's on the Bloomberg Terminal.
LEARN MORE