From Tea-Kettle Washer to China's Biggest Dealmaker: Timeline
Bloomberg News
ChemChina Chairman Ren acquired more than 100 domestic firms

Syngenta rebuffed Monsanto before ChemChina deal was struck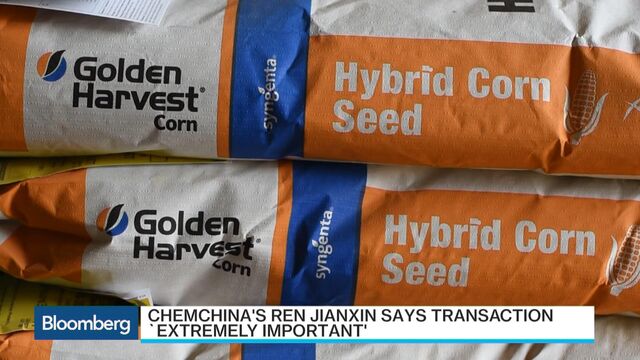 State-backed China National Chemical Corp., commonly known as ChemChina, agreed to buy Swiss pesticide-and-seeds-maker Syngenta AG for more than $43 billion in the biggest acquisition by a Chinese company.
Below is a timeline of events leading up to the sale:
1984: Chairman Ren Jianxin sets up China's first industrial cleaning firm, Bluestar Chemical Cleaning Group, with a loan of 10,000 yuan ($1,520). He charges 0.2 yuan for cleaning teakettles for households in Xining, Qinghai in northwest China. The entity later becomes one of ChemChina's key units.
1996: Bluestar's unit lists its stock on the Shenzhen Stock Exchange and moves its headquarters to Beijing.
2000: Novartis AG and AstraZeneca Plc merge their agriculture businesses to form Syngenta.
2004: China National Bluestar Group Co. and China Haohua Chemical Group Co. form ChemChina. Ren becomes general manager, under the supervision of the Chinese government.
1996-2007: ChemChina acquires more than 100 domestic companies amid a shakeup of China's state-dominated chemicals industry.
June 2014: Bloomberg reports Monsanto Co. had explored, but was no longer pursuing, a takeover of Syngenta.
March 2015: ChemChina makes a tender offer for Pirelli & C. SpA in a deal valued at about 7.4 billion euros ($8.1 billion), indicating an appetite for large deals in Europe.
May 2015: Monsanto is said to approach Syngenta again about a takeover, almost a year after the previous attempt fell apart. The Swiss company rejects a proposal of 449 Swiss-francs per share.
August 2015: Monsanto said to increase offer to 470 Swiss-francs-a-share in cash and stock. It then walks away.
October 2015: Syngenta Chief Executive Officer Mike Mack resigns after 14 years at the company. An investor pressure group is formed.
November 2015: ChemChina is said to be in talks for Syngenta, offering about 449 francs a share in cash.
December 2015: Dow Chemical Co. and DuPont Co. announce a merger of equals; ChemChina is said to raise its bid for Syngenta to about 470 francs a share.
Feb. 3, 2016: ChemChina announces agreement to buy Syngenta for a record $43 billion
— With assistance by Sarah Chen, and Alice Baghdjian
Before it's here, it's on the Bloomberg Terminal.
LEARN MORE