France Said Ready to Reduce Orange Stake in Bouygues Takeover
by , , and
Structure of potential $10.9 billion deal is under discussion

State intends to retain blocking minority of voting rights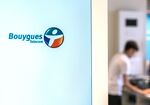 France is willing to allow its Orange SA stake to be diluted in the former state phone monopoly's planned acquisition of Bouygues Telecom, clearing one potential hurdle to a deal, a person familiar with the matter said.
The state agreed to lower its stake of about 22 percent after being presented with details of the talks in recent weeks, said the person, who asked not to be identified because the talks are confidential. President Francois Hollande's government wants France to remain Orange's largest shareholder and retain a blocking minority in terms of voting rights, the person said.
The green light for share issuance facilitates the talks between Orange Chief Executive Stephane Richard and Bouygues SA CEO Martin Bouygues as they work out the financial structure of a transaction that could be valued at as much as 10 billion euros ($10.9 billion).
An acquisition of Bouygues Telecom would reduce the number of mobile-phone companies in France to three from four. French telecommunications companies have been combining in the aftermath of massive price drops caused by Iliad SA's 2012 entry into the mobile market with discounted offers.
Deal Structure
Carriers have said they can't sustain investment unless competition eases, while regulators have applauded the cheaper phone packages for consumers. Orange said Jan. 5 it was in talks to buy the Bouygues business.
Orange pitched the deal to government ministers last week. The structure of the transaction, and what assets will be sold to rivals to alleviate antitrust hurdles, is still being negotiated, so the two sides are unlikely to meet a goal of having an agreement by Feb. 16, when Orange reports earnings, said another person familiar with the matter.
France wants to play an ongoing role in Orange because the company employs 98,000 people in the country and because of its status as the former phone monopoly. Government officials will scan the proposed deal for the impact on investments, jobs and prices in France, as well as the company's ability to do future deals outside its home market, a person with knowledge of the matter said last month.
The state's holding in Orange includes a direct sake of about 13 percent and about 9 percent owned through BpiFrance, the public investment bank. The state retains three seats on Orange's board, which has a total of 15 members including CEO Richard.
A spokeswoman for the French economy ministry declined to comment, as did a spokesman for Orange.
Before it's here, it's on the Bloomberg Terminal.
LEARN MORE