Chipotle Tumbles After Sales Plunge, Criminal Probe Expands
by
Burrito chain says 2016 will be a 'very difficult year'

Sales fell 36 percent in January as outbreak woes persist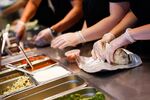 Chipotle Mexican Grill Inc.'sshares fell after the company told investors that January sales plunged and it received a subpoena expanding the scope of a federal criminal probe, renewing concerns that its food-safety crisis isn't over.
The subpoena was served by the U.S. Attorney's office for the Central District of California on Jan. 28, the Denver-based company said in a statement Tuesday. It requires Chipotle to produce documents dating back to Jan. 1, 2013, deepening an investigation that the company announced in January. The burrito chain, which said it doesn't yet know much about the investigation, also gave a dim view of 2016 in its latest earnings report, saying it would be a "very difficult year."

Chipotle expects earnings to be around the break-even point in the first quarter. Analysts had previously estimated $1.95 a share, according to data compiled by Bloomberg. The shares dropped 2.9 percent to close at $461.74 in New York, the biggest single-day slide in almost a month.
The bleak outlook stoked fears that the company won't bounce back as quickly as hoped from a series of foodborne-illness outbreaks. Chipotle's troubles have mounted since the U.S. Centers for Disease Control and Prevention said in November it was investigating an E. coli incident linked to the chain. That brought attention to previous cases of Chipotle customers getting sick, including customers at the California restaurant under review by federal investigators. The crisis wiped $10 billion in market value from Chipotle and raised questions about its protocols for handling fresh ingredients.
More Costly
"The company is going to have to incur greater marketing costs to win back customers," said Asit Sharma, an analyst at the Motley Fool. "And this might be counterproductive while a broader-scale investigation takes place. This puts management in a difficult position as they seek to reset the brand identity in 2016."
Last quarter, Chipotle's same-store sales tumbled almost 15 percent, its first decline as a public company, as customers shunned the chain. Still, management said on Tuesday that profit was better than expected in the period. Earnings amounted to $2.17 a share, topping a preliminary range of $1.70 to $1.90.
"The widening of the U.S. Attorney's probe puts a damper on a report that has real some positives in it," Sharma said.
But January didn't start the year off well for the company. Sales were down 36 percent in the month, Chipotle said on Tuesday. They fell 30 percent in December, suggesting that the situation worsened in recent weeks.
CDC's Probe
The CDC announced this week that its probe into Chipotle's E. coli incident was over, giving investors brief hope that the worst was behind the chain. In any case, Chipotle faces higher marketing and food-safety costs as part of its comeback effort. The company is adopting new protocols in its restaurants and supply chain. When it has fully recovered, Chipotle has said it expects to regain its customer traffic and industry-leading margins.
The subpoena pertains to a norovirus case at a Chipotle in Simi Valley, California, in August. That outbreak sickened more than 200 customers and employees, though it didn't generate much national publicity before the E. coli news. The U.S. Attorney's Office has been working on the case with the Food and Drug Administration's Office of Criminal Investigations.
Contaminated Food
The illnesses in California were caused by a employee who had the highly contagious virus but wasn't sent home from work. Steve Ells, Chipotle's co-chief executive officer, recently told Bloomberg News that the norovirus outbreaks in California and Boston involved breaches of protocol that were established in 2008 after the virus sickened 500 people near Kent State University in Ohio. Norovirus is the leading cause of illness from contaminated foods, affecting as many as 21 million people in the U.S. every year. Its symptoms, including diarrhea, vomiting and stomach pain, usually last a couple of days.
The latest subpoena now covers "companywide food safety matters," Chipotle said. The previous request, served in December, was limited to one restaurant.
The probe hinges on a federal statute regarding the sale of "adulterated" food, co-CEO Monty Moran said on a conference call. The company doesn't know much else about the investigation, he said. Thom Mrozek, a spokesman for the U.S. Attorney's Office, declined to comment.
"Investors shouldn't expect a smooth ascent," Sharma said. "These results indicate at least a yearlong project to bring costs in line and attract customers back through the doors."
Before it's here, it's on the Bloomberg Terminal.
LEARN MORE