China Sets 6.5% to 7% Growth Target, First Range Since 1990s
Bloomberg News
NDRC chief says downward pressure on growth `relatively big'

2015 expansion of 6.9% was in line with objective of about 7%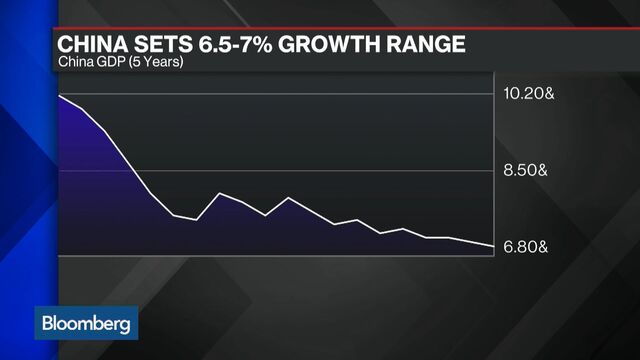 China set a range for its economic growth target for the first time in two decades, saying the world's second-largest economy would expand 6.5 percent to 7 percent this year, slower than last year's goal of about 7 percent.
While downward pressure on the economy is "relatively big" in the first quarter, China can meet the goal, National Development and Reform Commission Chairman Xu Shaoshi said Wednesday at a briefing in Beijing. The country also plans to take steps to curb excess industrial capacity and deal with unprofitable "zombie companies," said Xu, head of the country's top economic planner.
The announcement marked the first time top leaders said they would aim for a growth range instead of a specific target since the Eighth Five-Year Plan, which ended in 1995. In that plan, China targeted an 8 percent to 9 percent expansion. The new target also comes a month earlier than in past years, giving some additional assurance to global investors. The central bank also is planning to loosen limits on foreign fund outflows.
"It's impractical to have a growth target being a number," said Iris Pang, a Greater China economist at Natixis SA in Hong Kong, who forecasts 6.6 percent growth this year. "A range is more practical. It gives more room for policy makers to exercise their creativity to boost the economy."
Precarious Time
The new goal comes at a precarious time as policy makers battle the slowest growth in 25 years, the yuan dropping to a five-year low and the second bear market in stocks in less than a year. China's capital outflows jumped to $1 trillion last year, Bloomberg estimates indicate, while central bank data show foreign reserves shrank $513 billion for the first annual drop since 1992.
The central bank plans to loosen rules on when foreign investors can bring money in and out of the country, people with direct knowledge of the matter said Wednesday. The change would apply to funds under the Qualified Foreign Institutional Investor program, which grants quotas for money brought into China for investment in domestic stocks and bonds, said the people, who asked not to be identified as plans haven't been announced.
Home Loans
China still has many policy tools to deploy, and the central bank's recent cut to the minimum down payments required for first-time home buyers will help reduce excess housing stock, Xu said. The People's Bank of China said Tuesday it cut the minimum to 20 percent, the lowest ever, as it steps up support for the property market.
"Although the pace of Chinese economic growth has somewhat changed, it's still within a reasonable range," Xu said. His comments echoed those of Vice President Li Yuanchao, who told Bloomberg in an interview in Davos, Switzerland, last month that growth remains in a reasonable range and China can maintain a medium- to high-speed expansion.
Doubling GDP

Growth last year slowed to 6.9 percent, the lowest rate in a quarter century, and it will ease to 6.5 percent this year, according to a Bloomberg survey of economists. President Xi Jinping has said gross domestic product gains in the next five years should average at least 6.5 percent annually to realize the goal of doubling the 2010 GDP level by 2020.
In determining how to set the new target, the leadership considered the pace of growth, the labor market, and price stability, Xu said. Employment was weighed when evaluating where to set the lower end while inflation was a factor in deciding the upper end, he said.
The range was in line with expectations. Eight of 15 economists in a Bloomberg News survey conducted Sept. 17-22 forecast a 6.5 percent to 7 percent goal. Four predicted a 6.5 percent objective.
Flexible Guideline
Bloomberg News reported in August the range may be between 6.5 percent and 7 percent, and it may be a flexible guideline, citing a person familiar with the discussions.
The government is able to deal with unemployment caused by reducing excess capacity, and it won't let the issue impact social stability, Xu said. The chief of a state-run metals industry consultancy said last month China's plan to slash crude steel production capacity could eliminate 400,000 jobs and may fuel social instability.
Another official said China should avoid massive layoffs. The country should cut zombie firms through mergers and reorganizations instead of bankruptcy to reduce the number of laid-off workers, Wang Zeying, deputy director of the Social Security Research Institute under the Ministry of Human Resources and Social Security, wrote Thursday in China Daily.
Growth has decelerated for five straight years after averaging 10 percent for three decades through 2010. While the economy continues to transition toward growth driven by services and consumption instead of manufacturing and investment, the new drivers haven't yet proven sufficient to offset the lagging older ones.
"The risks are firmly toward the lower end of the GDP target range," said Rajiv Biswas, Asia-Pacific chief economist at IHS Global Insight in Singapore. The range "reflects the increased uncertainty in the near-term outlook, with considerable economic imbalances and continuing signs of weakness in manufacturing, exports and residential construction."
— With assistance by Ting Shi, and Aipeng Soo
Before it's here, it's on the Bloomberg Terminal.
LEARN MORE