Redstone Resigns as CBS Chair, Igniting Viacom Speculation
by and
Redstone's daughter calls for independent chair at Viacom

Rules out family trustees, including herself and Viacom CEO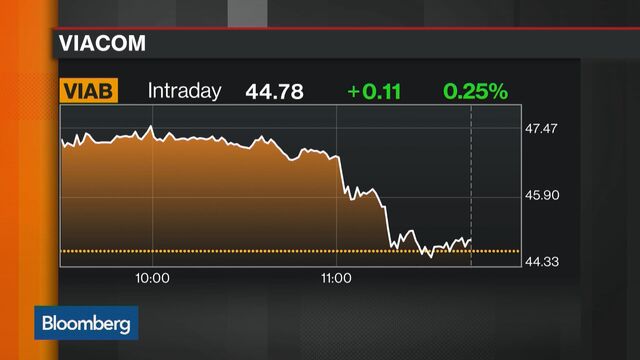 Billionaire Sumner Redstone resigned as chairman of CBS Corp. in a surprise move that immediately raised speculation that his reign at Viacom Inc. could also soon be over.
CBS said Chief Executive Officer Les Moonves will replace Redstone, ending years of uncertainty over when the 92-year-old media baron would cede control of his prized broadcasting company. At the same time, Redstone's daughter Shari revealed her intentions for succession at Viacom, the other piece of the family media empire. She said no member of the family trust -- including herself and Viacom CEO Philippe Dauman -- should get the chairman's job there.
"It is my firm belief that whoever may succeed my father as chair at each company should be someone who is not a trustee of my father's trust or otherwise intertwined in Redstone family matters, but rather a leader with an independent voice," Shari Redstone said in a statement Wednesday. "I was honored to nominate Les as the CBS chair and am delighted to congratulate him on his new position."
The action at CBS and Shari Redstone's statement signal that after a long period of uncertainty during her father's decline, questions of succession in the family empire are about to be settled. A doctor examined the elder Redstone last week in a mental competency case brought by his ex-girlfriend. Viacom's board is scheduled to meet Thursday and is expected to name a successor to Redstone, according to a person familiar with the matter.
Shares of both companies rose in extended trading. Viacom Class B shares advanced 9.9 percent to $49.10, while CBS gained 3.9 percent to $50.13. CBS owns the most watched U.S. broadcast network. Viacom is parent of cable networks including Nickelodeon and MTV, as well as Paramount Pictures.
S&P 500 Media Index 2015 Returns

"People think that Philippe Dauman is about to have a different boss, a different person in that seat that Sumner is abandoning," said Laura Martin, an analyst at Needham & Co. who follows both companies. 
Martin doesn't see events playing out that way. She expects Viacom's board to take the same action as CBS's and elevate CEO Dauman, 61, to the added role of chairman.
"Viacom got a letter and had to wait for a board meeting and will elect Philippe Dauman," she said. "They shouldn't, but that's what they'll do."
Questions about Redstone's mental condition arose last year, when the aging mogul was sued by former girlfriend Manuela Herzer. She claimed he was incompetent when he kicked her out of his house and put Dauman in charge of his health care if he could no longer make decisions on his own. Results of the examination by Stephen Read, a geriatric psychiatrist retained by Herzer, haven't been made public, and CBS didn't mention it in announcing Redstone's resignation.
Media Meltdown
In a tough year for media stocks, when pay-TV customers dropped or scaled backed their service and younger viewers went online for entertainment, Viacom stood out as the hardest hit, with its stock down 45 percent in 2015. That was the worst performance among the 17 stocks that make up the Standard & Poor's 500 Media Index, which declined 5.7 percent.
"The company is sorely in need of better governance," said Eric Jackson, managing director at SpringOwl Asset Management LLC, who called for Dauman to step down last month. "To have a new independent chair, someone everyone respects, would be a great idea."
New CBS Roles
Moonves, 66, will remain CBS's president and CEO, according to a statement Wednesday by the broadcaster. Redstone is now chairman emeritus and Shari Redstone, 61, remains vice chairman.
The elder Redstone told Moonves Tuesday of his decision to step down in a letter that was also sent to the CBS board and the governance committee, according to person with knowledge of the matter who asked not to be identified discussing a personnel matter. The board met and chose Moonves, a widely respected media veteran, as his successor.
The family trust has a provision that lets Shari Redstone become CBS's chairman on her father's death. Separately, the younger Redstone had an agreement with Moonves handing that role to him instead, a person familiar with the situation said last year. She doesn't have a similar arrangement with Dauman.
Employment Deals
Moonves, who joined CBS in 1995 as president of CBS Entertainment, has been president and CEO of CBS Corp. since 2006, when the company was separated from Viacom. Moonves is under contract to be CEO through June 2019.
Dauman stands to reap about $88 million if he isn't named executive chairman or the highest-ranking officer once Redstone exits. About $75 million is salary, bonus and other benefits, with the rest equity awards that would vest early. CBS's proxy statement indicated Moonves would be entitled to as much as $223 million if he departs under similar circumstances.
Sumner Redstone controls the majority of the voting shares of both CBS and Viacom through a family holding company, National Amusements Inc. Together, the two companies have a market value of about $40 billion.
Before it's here, it's on the Bloomberg Terminal.
LEARN MORE