Cameron Hails EU Deal That British Voters Might Not Even Notice
by
Few undecided voters will look at the small print of the deal

Failure to tell public facts on immigration stores up trouble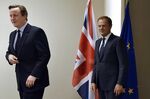 If one thing's sure about David Cameron's deal with the European Union, it's that it won't make a lot of difference to how Britain votes on it.
QuickTake Will Britain Leave the EU?
The prime minister presented an agreement on Tuesday as a hard-won triumph, the result of "strong, determined and patient negotiation." In fact, it represented a downgrade of what he had originally asked for. A promised ban on welfare payments for children living abroad became an indexing of the claims to local living costs. A ban on foreign workers claiming welfare for four years turned into temporary power to taper those claims.
For all that, the referendum will see the bulk of the Conservative, Labour, Scottish National Party and Liberal Democrat lawmakers line up alongside business groups to argue for Britain to stay in a bloc it joined in 1973. They will come up against a campaign to leave that's currently split between two groups unable to agree on a strategy or a front-man. Polls show enough people are undecided to swing it either way, provided they turn out to vote.
"People's focus is on the big issues, particularly when their level of interest in the topic isn't that high," said Justin Fisher, professor of politics at Brunel University. "The evidence from the last two referendums in this country is that voting isn't a function of the detail."
The Undecideds
A YouGov Plc poll completed on Jan. 28 found 42 percent of respondents backing leaving the EU and 38 percent saying they would vote to stay. But it also found 18 percent saying they hadn't made up their minds.
The experience of most referendums, such as the one on Scottish independence in September 2014, is that undecided voters break in favor of the status quo. The result may come down to turnout, according to Joe Twyman, head of political research at YouGov.
"Very few people will change their minds as a result of this deal," Twyman said "Now it comes down to the big question of who can get their supporters to turn out to vote."
The referendum might take place as early as June. It makes good on a promise Cameron made to his Conservative Party, which has been split over the U.K.'s relationship with Europe for decades, after winning a second term last May. It also follows division in Britain over the scale of immigration from poorer parts of eastern Europe, an issue higher up the priority list of voters than EU reform.
Two Worlds
"I think we will be able to show that on balance, Britain is better off, more secure, more prosperous, better chance of success when inside the European Union," Cameron said yesterday in a speech in Chippenham, western England. "We will be able to argue that Britain will have the best of both worlds."
Fisher at Brunel predicted that those campaigning for a "remain" vote will focus on "the economic threat and the chaos threat" of a vote to leave. The other side is likely to present the EU as an institution that's "incapable of reforming itself," he said.
While Cameron, 49, may avoid defeat over Europe, his deal fails to solve a deeper problem that hangs over British politics: immigration levels. The prime minister has now won two elections promising to bring net levels of incomers below 100,000, while getting nowhere near that.
The best-selling Sun newspaper declared that the deal "stinks" and "the most abject defeat" was over immigration, according to a tweet by its editor in chief.
Eating Broccoli
The argument by Cameron and his allies is that the welfare restrictions for migrants would curb the influx. That was questioned by the anti-immigration campaign group Migration Watch. It reported yesterday that 50 percent of people arriving in the past four years were single, meaning their entitlement to in-work welfare was small.
Cameron swerved a question on Tuesday about whether what he was proposing would reduce immigration. According to Rob Ford, professor of political science at Manchester University, the prime minister should never have suggested it would.
"The problem is that it's been sold as a way of stopping migration from happening, and that won't work," he said. "If they were more modest about what this achieves, they'd be on firmer ground." Immigration is something that's going to happen regardless, "and no politician likes to tell people that they've just got to eat their broccoli," he said.
Before it's here, it's on the Bloomberg Terminal.
LEARN MORE