BOE Will Stress Downside Risks Even As It Says Market Too Dovish
Most analysts see a near-term rate increase as off the table
by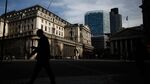 With short-end U.K. rates now pricing the possibility of some Bank of England easing, Governor Mark Carney and the Monetary Policy Committee will walk a fine line on Thursday by highlighting downside risks while challenging rate path expectations two to three years ahead, economists say.
The pound faces a risk of a short squeeze this week as investors have already scaled back expectations for the timing of a rate increase, analysts say. The BOE rate decision, minutes and Inflation Report are due on Thursday at 12pm U.K. time while the press conference is scheduled to start 30 minutes later.
JPMorgan (Allan Monks) 
Expect 8-1 vote for rates to remain at 0.5 percent. The near-term inflation projection will be lower than at the time of the November Inflation Report, but the forecast for 3 years hence will be above 2 percent. That would indicate the curve is too flat, which may be seen as relatively "hawkish" by central bank watchers.
The overall tone will be that a near-term rate increase is off the agenda, consistent with a possible late-2016 or even early 2017 rate rise. This would be a dovish shift relative to November's update, but in line with JPMorgan's view that the central bank will lift rates in the fourth quarter of 2016.
Goldman Sachs (Andrew Benito) 
Forecast 8-1 vote for rates to remain at 0.5 percent. Expect forecasts for inflation in 2 years to be marginally higher than in November, while the 3-year estimate will be further above target. The MPC will probably say it wishes to avoid such an overshoot. That will, however, be moderated by comments about the downside risks, which will somewhat endorse market pricing.
The biggest challenge to Goldman Sachs's view is if the MPC sees low inflation as a significant risk to the anchoring of inflation expectations.
BofAML (Kamal Sharma, Robert Wood, Sebastien Cross) 
Wages, oil and downside growth risks give BOE plenty of reasons to wait before lifting rates. Expect the Inflation Report to give a more dovish view of the rate outlook than in November.
Even so, recent speeches by MPC members have not been as dovish as market expectations and it's hard to imagine officials will fully endorse the current flatness of the curve. Look for a mean inflation forecast of 2 percent at the 2-year horizon and 2.2 percent at the 3-year horizon.
UBS (David Tinsley) 
The MPC's forecasts will continue to quietly imply that the market isn't pricing enough tightening, but it isn't yet time to turn up the volume given the broader market volatility, softer GDP and wages since November's report.
Expect MPC forecasts for inflation in 2 years and 3 years to be similar to those in the November report. The MPC would be reluctant to push hard against market rate expectations given the downside risks, and such a push back isn't worthwhile as the referendum on EU membership looms.
Deutsche Bank (Jack Di Lizia) 
The front-end of the curve is pricing a rate cut, setting a high bar for Carney to out-dove the market, so any hawkish nuance could spur some retracement.
Any acknowledgment of the offsetting impact of a weaker pound on inflation's trajectory could be seen as hawkish relative to market pricing, and rate-cut expectations may be vulnerable if Carney stresses the upward trajectory of the rate path.
A 0.3 percent to 0.4 percent downgrade for 2016 inflation is possible, but sterling's depreciation and steeper oil curves suggest forecasts for 2017 and beyond should be more in line with those in November.
RBS (Ross Walker) 
Expect a unanimous vote, with McCafferty dropping his dissent as he did in January 2015, when the backdrop was quite similar. The three hurdles to a rate rise, as identified by Governor Carney, are nowhere close to being achieved.
Expect 2-year to 3-year ahead inflation projections to be little changed compared to the last quarterly report. It seems unlikely the central bank's CPI forecasts will validate market pricing for the first rate increase. That said, given how far expectations for a policy change this year have receded, updated forecasts or any policy signal is unlikely to impact markets much.
RBC (Sam Hill) 
The fall in oil prices suggests inflation forecasts will be lower than in the prior report. If any overshoot at the 3-year horizon remains, it would signal the BOE thinks a correct response would be to tighten before August 2017.
Expect 8-1 vote for rates to remain at 0.5 percent. A switch to 9-0 is more likely than an emergence of more dissenters.
Nomura (Philip Rush) 
Expect 8-1 for rates to remain at 0.5 percent. The BOE is being dissuaded from a move until it's sure inflation pressures are coming, given uncertainty around the Phillips curve, the level of effective inflation expectations and spare capacity.
Forecasts may show relatively balanced inflation risks around the 2 percent target at the 2-year horizon, and any larger overshoot in 3 years would be downplayed. While the BOE may be uncomfortably aware of the absence of fundamentals in the way markets are trading, it's doubtful these factors will challenge the bank's well-established dovish bias.
Before it's here, it's on the Bloomberg Terminal.
LEARN MORE