UN Condemns Australia Asylum Ruling as Children Bound for Nauru
by
High Court has ruled transfer to offshore camp is legal

Government risks failing international obligations, UN says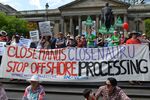 The United Nations has urged Australia not to send 267 asylum seekers to an offshore camp in the island nation of Nauru after the High Court ruled such a transfer would be lawful.
Transferring the asylum seekers, including 80 children, could "further damage their physical and mental health, and would put Australia at risk of breaching its obligation not to return any person to cruel, inhuman or degrading treatment," the UN High Commissioner for Human Rights said in an e-mailed statement.
Australia's Liberal-National coalition won power in 2013 vowing to stop a surge of refugees attempting to arrive by sea, often in rickety fishing vessels from Indonesia. The policy of sending the asylum seekers to processing camps in Nauru and Papua New Guinea has halted the flow, and cut the number of refugees drowning at sea, but has been condemned by bodies such as the UN for breaching human rights.
"The people smugglers will not prevail over our sovereignty," Prime Minister Malcolm Turnbull told parliament Wednesday after the High Court rejected a challenge to the policy. "Our borders are secure. The line has to be drawn somewhere, and it is drawn at our border."
Church groups have said they will offer sanctuary to the asylum seekers, according to the Australian Broadcasting Corp. Greens Senator Sarah Hanson-Young said the Nauru camp is unsafe for women and children and the issue is a "test" for Turnbull, who inherited the policy from his predecessor Tony Abbott.
"This is the first major test for the prime minister," Hanson-Young said in a statement. "Will he keep these children safe, where they can thrive and prosper, or will he dump them back on the prison island of Nauru?"
Before it's here, it's on the Bloomberg Terminal.
LEARN MORE