Alphabet to Link Low-Income Housing to Its Fast Fiber Internet
by
One hundred families in housing project to get free broadband

Fiber plans to connect up to 1,300 families in Kansas City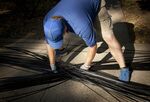 Alphabet Inc. will give public housing properties connected to its Fiber network free ultra-fast broadband, as the company tries to link low-income people to Internet services a hundred times faster than the U.S. average.
All 100 homes in the West Bluff housing project in Kansas City, Missouri, will be able to sign up for free Internet at speeds as fast as 1,000 megabits per second (Mbps), the Mountain View, California company said Wednesday. Google's parent company hopes to connect as many as nine affordable housing properties in Kansas City, reaching move than 1,300 families, Dennis Kish, a vice president of Google Fiber, said in a blog post.
The company plans to work with public- and affordable-housing authorities in all the markets where it operates to provide free Internet to a portion of low-income residents, Erica Swanson, the head of community impact for Fiber, said in an interview.
Alphabet's effort in Kansas City is in partnership with the Obama administration's ConnectHome initiative announced in July to bring broadband to 275,000 low-income families in public housing across 27 U.S. cities.
Faster Access
Google Fiber is Alphabet's effort to become a supplier of fast Internet and cable television to regions across America. The five-year-old business is built around delivering Internet access at far faster speeds than are typically available. The 1,000 Mbps in bandwidth fielded by Fiber greatly exceeds the speed of most connections in America --- the average speed for the third quarter of 2015 across the U.S. was 12.6 Mbps, according to a report from Akamai.
"Speed is important, and that's true whether you're a super-user, or running a small business out of your home, but it's also true if you're first coming online," Swanson said.
The company also will work with local partners to invest in computer labs and digital literacy classes for the low-income people gaining access to the company's Internet services. "We're really enthusiastic to see what they do with it," she said.
Fiber is one of Alphabet's most high-profile and expensive "Other Bets." The company spent the greatest share of the $869 million in capital expenditures for Other Bets on the broadband service, Alphabet executives said Monday during its fourth-quarter earnings call.
Before it's here, it's on the Bloomberg Terminal.
LEARN MORE