Airbus Poised to Get First Deal for Zephyr Spy Drones From U.K.
by and
UAVs are cheaper than satellites and quicker to deploy

Craft will stay airborne for weeks at height of 65,000 feet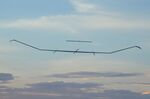 Airbus Group SE is poised to win its first contract for the Zephyr high-altitude spy drone as Britain prepares to buy two of the aircraft to sharpen its battlefield intelligence gathering.
The so-called unmanned aerial vehicles "will be able to fly higher and for longer to gather constant, reliable information over vast geographic areas," U.K. Defence Secretary Michael Fallon said in London late Tuesday at an industry briefing. The two Zephyrs will be built in the U.K., according to the Ministry of Defence, which confirmed that a contract is imminent.
With a cost of 10.6 million pounds ($15 million) for the pair, the drones are cheaper than their satellite equivalents, can be deployed far more rapidly and are designed to operate above 65,000 feet, providing crisper resolution and taking videos rather than just snapshots. Prime Minister David Cameron said after last year's defense review that Britain planned to field a UAV that could monitor its adversaries for weeks from the edge of Earth's atmosphere.
The Zephyrs could also improve military communications by providing phone or broadband networks to improve links with battlefield radios that work only over lines of sight, Airbus Defence and Space said in response to questions from Bloomberg. They could also have a future role in improving Internet access in the civil arena, it said.
Originally developed by Qinetiq Group Plc, the U.K. government's former defense-research laboratory, the Zephyr program and its personnel were acquired by Airbus in 2013. Fallon spoke at an event organized by the U.K.'s aerospace trade body ADS.
Before it's here, it's on the Bloomberg Terminal.
LEARN MORE