A Not-So-Rosy Path to U.S. Expansion for Flower Delivery Startup BloomThat
After cutting staff and raising prices, the San Francisco company says it's ready to expand again.
by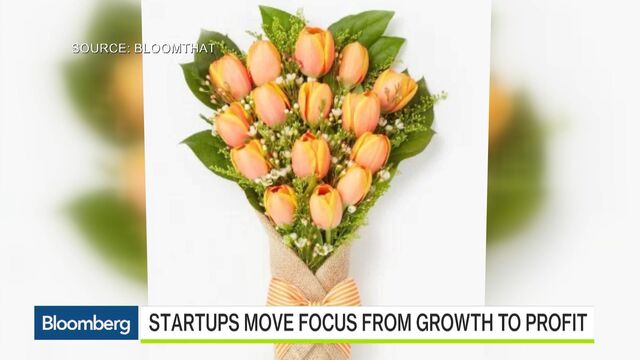 David Bladow built his flower-delivery company BloomThat like a technology startup. He went through the Silicon Valley business incubator Y Combinator, and eventually raised $7.6 million from venture capitalists and celebrities. BloomThat's expansion plan was modeled on a similar playbook as the social media apps and other companies that graduated from Y Combinator: Grow like mad at all costs.
Bladow, chief executive officer and co-founder of BloomThat, was constantly looking out of the corner of his eye at other tech startups coming of age around the same time. "All we saw were headlines," he said. " 'Growing 50 percent week over week.' How the hell are they doing that?"
Last summer, Bladow and his executives reviewed their financials and came to a startling realization: They were spending a ton of money. The San Francisco startup, which lets customers order flower bouquets through an app, burned close to $600,000 in July alone. At that rate, BloomThat had enough cash to survive for three more months. "We looked up, and we were like, 'Holy s---, we've got a problem,' " Bladow said.
To cut costs, BloomThat began charging a delivery fee for the first time, raised flower prices, dropped one-hour delivery in most markets, and reduced staff. The company cut its head count from about 70 to 42 employees from June to August, Bladow said. By October, BloomThat had reduced its losses to $15,000 a month. Bladow said the company is now healthy enough to start expanding again. BloomThat will begin offering flower deliveries anywhere in the U.S. on Wednesday through a partnership with FedEx.
BloomThat's struggles will sound familiar to other on-demand startups. Such companies, born in the "Uber for X" boom of the last few years, are finding that venture capitalists are now asking different questions—like how soon the company can be profitable—before taking out the checkbook. Highflying delivery startups, such as Instacart, have cut staff and raised prices. "Things have really changed in the last three or four months," said Eurie Kim, a partner with Forerunner Ventures and a BloomThat investor. "That's what's going to differentiate companies in the next year: If you have to raise money, well, I hope everything about your business is looking good."
Bladow felt pressure from other investors to hit growth targets at the expense of making money. "If you're making decisions based on profitability, you can't achieve the hockey-stick growth that's expected of you," he said. BloomThat had been guaranteeing one-hour delivery in sprawling markets such as Silicon Valley and Los Angeles, even though the founders knew it was "kind of crazy," Bladow said. They felt a delivery fee would turn off some customers, so they never charged one. They hoped instead to squeeze revenue from $35 bouquets after flower providers and delivery workers took their cuts.
That plan didn't work. While the typical order was about $50, the company was losing money on every bouquet it sent out on average. BloomThat had switched accounting firms several times, so executives never had access to up-to-date numbers until they overhauled the processes last summer. Once the founders realized the extent of the problem, the next few months were dark and frantic. "We were staring into the abyss," Bladow said.
After a major stumble, it can be hard for a company to bounce back into hypergrowth, said Sucharita Mulpuru, an analyst at Forrester Research. Perhaps worse, it may lose its sheen with tech investors. "Once you've missed the window of opportunity for the big payday and the investor froth is finished, it's tough," Mulpuru said. "Your goal at this point is survival."
Bladow said Kim and her venture firm were expressing concern about the company's unit economics before it was fashionable to do so. "We were very uncool for asking those questions two years ago," Kim said. Eventually, "David came to us and said, 'I need help.' " Kim started spending two or three days a week at BloomThat's office, helping the company map out where to cut.
BloomThat dropped one-hour delivery everywhere except Manhattan and San Francisco. It started charging $7.99 to $9.99 in delivery fees, adjusted its product offerings, and raised flower prices. Bladow put all the company credit cards into Mint.com and monitored every purchase. The company also attempted to untangle its complex distribution system. In the San Francisco Bay area, flowers used to move from a central warehouse to one of seven roving vans and then to a delivery driver before finally reaching the customer. It pared back to a single van and two fixed distribution centers, saving on gas and driver costs.
Eventually, BloomThat made some hard-won improvements: Gross margins went from the negatives to 30 percent or 40 percent. (Kim said they're still below the 50 percent she expects from her companies.) Bladow said BloomThat now has enough money to last for more than a year, though the company aims to raise a new round sometime this year. With the national expansion on Wednesday, it plans to avoid past mistakes by outsourcing much of the logistics to FedEx and charging $9.99 to $24.99 for delivery. BloomThat said the price should drop when it opens a third distribution center sometime this year.
Bladow remains, not surprisingly, optimistic about BloomThat's future. The company's revenue more than doubled in the last year, and its customers send flowers eight times a year on average. His team may be smaller now, but it's also stronger, he said. "We've come through the valley of the shadow of death," he said. "I think a lot of companies aren't going to make it through that."
Before it's here, it's on the Bloomberg Terminal.
LEARN MORE