Yahoo's Mayer Critiqued by Judge Over Executive's Firing
by
Investors want files on ousted COO Henrique de Castro

Judge says `credible basis' to probe CEO's role in firing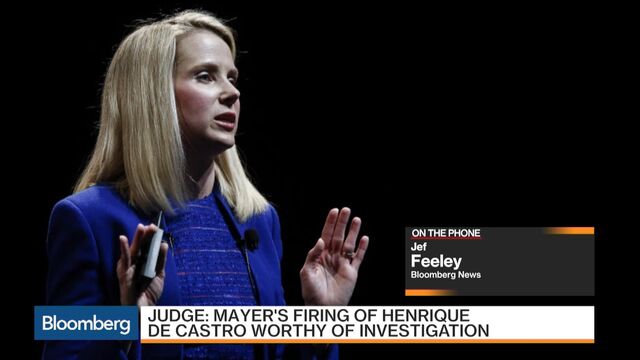 Yahoo! Inc. officials were ordered to hand over internal documents to investors detailing how Chief Executive Marissa Mayer handled the 2014 firing of her former second in command, a move that triggered nearly $60 million in severance payments.
Mayer's conduct in the termination of ex-Chief Operating Officer Henrique de Castro, a former Google colleague, after only 14 months on the job may not have been improper, "but it is worthy of investigation," a Delaware judge concluded Tuesday.
Mayer has been criticized by activist investors for failing to turn around the Web pioneer, which has been eclipsed over the years by Google, Facebook Inc. and other digital providers. The embattled CEO, who has overseen falling sales in seven of the past 10 quarters, has promised a new plan to cut costs and boost growth. The company plans to say it's exploring "strategic alternatives" for its Web business, a person familiar with the matter said Tuesday.
'Credible Basis'
Investors have a "credible basis" for wanting to review Yahoo's files on de Castro's ouster and have raised legitimate reasons to "suspect" Mayer and directors wasted money in the hefty payout, Delaware Chancery Court Judge Travis Laster said in a 74-page ruling.
Sunnyvale, California-based Yahoo doesn't "comment on ongoing litigation," Suzanne Philion, a spokeswoman for company, said in an e-mail.
De Castro, hired as Mayer's top lieutenant, joined Yahoo in November 2012 from Google, where he was touted as an expert in Internet advertising. He was fired in January 2014 after little more than a year on the job amid disappointment with his efforts to boost growth.
The former executive was in line to receive an estimated $109 million, including equity awards and almost $60 million in severance benefits for his short stint. During his time at Yahoo, he was paid more than Mayer's $36.6 million, according to a 2013 company report sent to shareholders.
Yahoo investors want to delve into details about Mayer's decision-making and the board's oversight role. Mayer "cryptically withheld" de Castro's name, position and qualifications while seeking initial board approval on his pay. She also steered changes to the terms of his offer letter that effectively doubled the payout of incentives and options, Laster said in his ruling.
Performance Data
"Based on the current record, it is not clear why Mayer did these things, and the explanation may well be innocent or innocuous," Laster said. "Regardless, further investigation is warranted."
Investors also have a right to information about de Castro's performance and whether he could have been fired in a way that didn't require payment of his severance package, the judge said.
De Castro, who was charged with expanding the scope of Yahoo's digital advertising, "did not perform," Laster said, adding that "in every quarter after he started, Yahoo's advertising revenue declined."
Yahoo also was accused yesterday in a lawsuit of manipulating employee performance evaluations to justify firing hundreds of workers in order to meet its financial targets. The company defended its evaluation system as fair.
The Delaware case is Amalgamated Bank v. Yahoo! Inc., CA10774-VCL, Delaware Chancery Court, (Wilmington). The California case is Anderson v. Yahoo Inc., 5:16-cv-00527, U.S. District Court, Northern District of California (San Jose).
Before it's here, it's on the Bloomberg Terminal.
LEARN MORE