Yahoo to Pursue Asset Sales, Cut 15% of Staff
by
Web portal to keep pursuing reverse spinoff of businesses

Strategic plan calls for fewer products, better engagement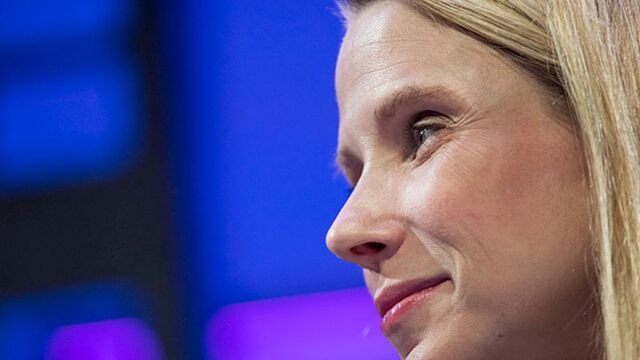 Yahoo! Inc. Chief Executive Officer Marissa Mayer is exploring strategic alternatives for the company's beleaguered Web business while slashing staff by about 15 percent and exiting product lines, giving in to demands by restive shareholders displeased by her failure to boost growth.
The Sunnyvale, California-based company will fire employees, shutter more offices and devote more resources to increasing engagement with users, Yahoo said Tuesday in a statement. Mayer's plan was unveiled as the company reported fourth-quarter sales and profit that exceeded analysts' estimates, offering a bright spot to shareholders who have seen the stock drop 35 percent in the past year.
Activist investors such as Starboard Value LP have been calling for leadership changes or an outright sale of Yahoo's Web units. Late last year, Mayer abandoned a plan to spin off its valuable Asian assets to shareholders, and said she would instead consider a reverse spinoff of other businesses into a standalone company, heightening criticism of her strategy. Though the Web portal on Tuesday said it will continue to pursue that plan, the board will "engage on qualified strategic proposals" while exploring other asset sales.
Mayer has been trying to steer the Web portal through one of the most challenging chapters in its more than 20-year history. As newer Internet search and content hubs such as Facebook Inc. and Google have lured advertisers, Yahoo has failed to keep pace, and sales have slipped since reaching a peak in 2008.
"It's tough to turn around Internet companies," said Shyam Patil, an analyst at Susquehanna International Group LLP. "Either you're kind of in the sweet spot, or you're not."
Shares of Yahoo slipped 2.6 percent in extended trading. The stock fell 1.7 percent to $29.08 at Tuesday's close in New York, bringing the decline for the year to 13 percent. In a separate filing, the company said Charles Schwab resigned as a director, reducing the board to seven members.
Interested Parties
Several parties have expressed interest in a possible Yahoo transaction. Officials from telecommunications giant Verizon Communications Inc. have publicly said they'd consider a deal. Private-equity firms TPG and Bain Capital Partners LLC are also weighing bids for Yahoo, according to people with knowledge of the matter.
Verizon Chief Executive Officer Lowell McAdam and Chief Financial Officer Fran Shammo, using similar language, both said in December that Verizon would look at a Yahoo deal "if it made sense." Verizon acquired AOL Inc. for $4.4 billion last year. Yahoo's mail, finance, sports and video sites attract more than 1 billion users and represent a stable of assets that would add to AOL's roughly 170 million Web visitors. Such traffic, along with exclusive content, holds appeal for Verizon, which needs to lure and retain a new smartphone-addicted generation.
Despite Verizon's interest, the two companies haven't discussed a sale, according to a person with knowledge of the matter.
Closing Offices


As part of the new strategic plan, Yahoo aims to cut costs by more than $400 million by the end of the year, and is targeting revenue of $1.8 billion in 2016 through its so-called Mavens businesses, which includes ads through mobile, video, native and social platforms.
Some of those cost cuts include consolidating digital magazines under core verticals, while shutting others down. The company will also exit older products, including Games and Smart TV, which have not met growth expectations.
"Cutting costs and focusing on its areas of revenue growth should make the operating business more attractive to a potential buyer," said Paul Sweeney, an analyst at Bloomberg Intelligence.
Yahoo, which had 10,700 employees as of September, had already disclosed plans to close some offices, including sites in Mexico and Argentina.
For the fourth quarter, the company reported sales, excluding revenue shared with partner websites, of $1 billion. That compares with analysts' average estimates of $948.1 million, according to data compiled by Bloomberg. Excluding some costs, per-share profit was 13 cents a share, compared with the analysts' average projection of 12 cents.

Yahoo said it expects to return to modest and accelerating growth in 2017 and 2018. For the current period, sales excluding revenue passed on to partners is forecast to be $820 million to $860 million, according to a company slide presentation. That compares with an average analyst projection of $907.8 million.
The report comes as activists step up pressure on the company after Yahoo reversed course in December on plans to extricate itself from a multibillion-dollar stake in Chinese e-commerce company Alibaba Group Holding Ltd., amid rising concerns about the potential tax bill. Its current plan calls for it to explore spinning off the rest of its assets into a separate, standalone company -- a move that could take more than a year to complete.
Activist Starboard Value, which first raised concerns about Yahoo in 2014, says that's too long for shareholders to wait -- and has urged an overhaul of the company's management and board, saying that "significant changes" are needed. The remarks, made last month, were the strongest indication that the investment firm is gearing up for a proxy battle aimed at unseating Yahoo directors. Starboard, which owned less than 1 percent of the company as of the third quarter, has suggested an overhaul of management and potentially a sale of the main Web business.
Considering Sale
Although Mayer and the board downplayed any drastic scenarios last year, people familiar with the matter said last month that Yahoo was considering an outright sale of its business.
Since taking the helm in 2012, Mayer has poured money into improving products and landing media-content deals, while expanding services through acquisitions. Yet many of her efforts have stumbled -- and even before the announcements today, Mayer had cut the workforce by more than 30 percent and closed down some offices in futile attempts to jump-start profit and sales growth. At about $27 billion, the company's market value is less than half what it was in 2005.
It's been a tumultuous decade. Since 2006, the company has been under the leadership of seven permanent or interim CEOs, including one who was fired with a phone call and another who resigned after failingto correct errors in his credentials. Yahoo has been the target of several activists in the past, including Daniel Loeb's Third Point LLC earlier this decade, and Carl Icahn in 2008 amid a failed buyout by Microsoft Corp.
While Mayer is again trimming staff and seeking to renew faith in the company, she's lost several top executives in recent months. In December, the company said Senior Vice President Prashant Fuloria, whose duties included product and engineering for advertising products, was leaving. Other departures last year include Jacqueline Reses, Yahoo's chief development officer, and Kathy Savitt, who had been chief marketing officer.
Before it's here, it's on the Bloomberg Terminal.
LEARN MORE