Valeant Interim CEO Schiller to Be Paid $400,000 a Month
by
Schiller has an initial two-month contract, could be extended

Company scheduled to appear at congressional hearing Thursday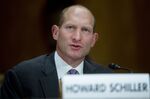 Valeant Pharmaceuticals International Inc.'s interim Chief Executive Officer Howard Schiller will be paid $400,000 a month while CEO Michael Pearson recovers from severe pneumonia, the drugmaker said Tuesday.
Schiller started the temporary CEO job on Jan. 6 and will be paid the rate for two months, Valeant said in a regulatory filing.
"While we have agreed on an initial two-month period, if the board asks Howard to continue as interim CEO at that point, he has indicated he would be willing to do so," said Renee Soto, an outside spokeswoman for Valeant with Sard Verbinnen & Co. Pearson told employees in late January that he was on "the road to recovery," but didn't say when he'd return to the firm.
Schiller, a Valeant director who is also the company's former chief financial officer, won't get his board salary while he's leading the company. The company also said it ended a consulting arrangement with Schiller.
He's scheduled to testify before Congress on Thursday on how his company sets drug prices, after the drugmaker became a major example in a national debate over the high cost of prescription pharmaceuticals.
"When they set the compensation amount they looked at Howard's qualifications, his deep familiarity with and understanding of Valeant's operations," Soto said, and "his ability to lead the company during a time of intense public scrutiny." Valeant also compared Schiller's pay to what executives at similar firms are making, she said. Pearson was awarded pay of $26.1 million for 2014, in cash and stock.
Schiller's salary will be paid in cash, and he'll get "a reasonable amount" of vacation time, Valeant said.
Before it's here, it's on the Bloomberg Terminal.
LEARN MORE