UPS Sees 2016 Profit Rising as E-Commerce Strategy Pays Off
By
Earnings top analyst estimates after successful holiday season

Revenue increases 1 percent, hurt by currency translations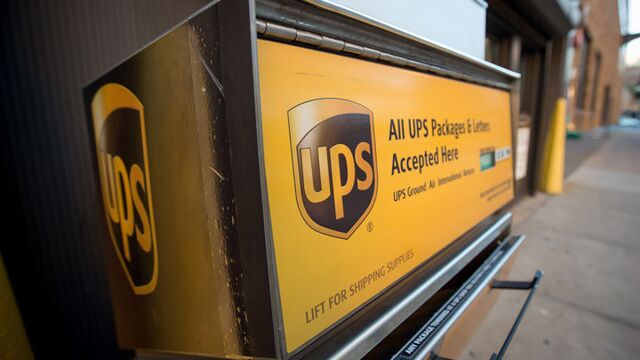 United Parcel Service Inc.'s profit is likely to climb well beyond analyst expectations this year, helped by a new pricing strategy and the use of technology to make e-commerce more profitable.
Adjusted earnings will climb to $5.70 to $5.90 a share this year, the package-delivery giant said in a statement Tuesday. That compares with an average analyst prediction of $5.73, according to data compiled by Bloomberg. Fourth-quarter profit also was better than expected as the Atlanta-based company managed the holiday-season rush better than in the previous two years.
Capitalizing on growth in online retailing should benefit the company year-round, executives said. Deliveries to consumers are rising so fast that they are projected to equal commercial shipments in the U.S. by 2018.

"Although the industrial side of the economy has slowed, the explosive growth of e-commerce continues to create great opportunity," Chief Executive Officer David Abney told analysts on a conference call.
Sales increased just 1 percent to $16.1 billion, hurt by currency translations and lower fuel surcharges to customers. Revenue increased 2.6 percent for domestic packages and dropped 7.3 percent for international.
UPS shares rose less than 1 percent to $94.69 at the close in New York, while the Standard & Poor's Industrials Sector Index tumbled 2 percent on concern that global growth is slowing.
Holiday Rush
Executives touted their success during the 2015 holiday season. Online orders overloaded UPS's network during the 2013 peak season, and the company failed to deliver some presents by Christmas. A year later, the company overspent to grapple with the inevitable holiday rush, leaving some employees and equipment idle. 
Its ability to control costs amid the holiday surge last year helped fourth-quarter profit rise to 1.57 a share, easily topping the $1.42 estimated by analysts.
"After three peak seasons, two of which were a disaster, they've started to figure it out," said Edward Jones analyst Logan Purk.
UPS has turned to a mix of technology and new pricing methods to help make e-commerce and the broader business more profitable.
A vehicle-routing system takes much of the guesswork out of how UPS drivers run their routes, plotting the best path from Point A to Point B. The system, called ORION, will be fully implemented by next year, the company said Tuesday. Another initiative, Access Point, aims to reduce failed delivery attempts by dropping off packages at a store near the recipient in some neighborhoods.
Pricing Changes
UPS, as well as rival FedEx Corp., also created a new pricing system that charges customers based on a package's shape, rather than just its weight. Big boxes incur high fees even if the items inside are lightweight. That has encouraged shippers to use smaller packages, taking up less space in of UPS vehicles, Chief Financial Officer Richard Peretz said on the call.
Efforts to make e-commerce more profitable are closing the profit gap between business deliveries and residential ones, he said.