Cameron to Campaign Against `Brexit' as Welfare Deal Offered
by , , and
Provisional agreement covers migration and sovereignty issues

U.K. prime minister needs to win over all EU leaders at summit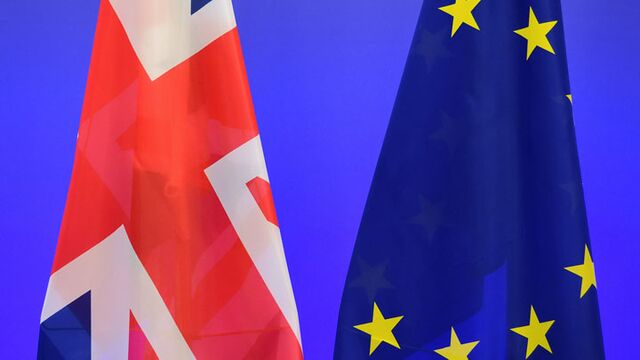 British Prime Minister David Cameron said he's ready to campaign to keep the U.K. in the European Union after its president, Donald Tusk, issued a draft proposal that includes a way to restrict the payment of benefits to foreign workers.
As well as offering a four-year "emergency brake" on welfare for new migrants from the EU, Tusk's plan sets out safeguards to shield the U.K. financial system from interference by euro-area regulators and more powers for national parliaments.
Cameron needs to persuade a skeptical British public he's fought hard and won significant concessions as he prepares for a referendum on whether the U.K. should remain in the EU or leave -- a so-called Brexit. At the same time, he has to keep the bloc's other 27 leaders on side, because they still have to approve Tusk's plan at a summit in Brussels this month. That would pave the way for a popular vote as early as June.
"If I could get these terms for British membership, I sure would opt in to membership of the EU," Cameron said in a speech at a plant in Chippenham, western England, run by German engineering giant Siemens AG, symbolizing the degree to which the U.K.'s economy is bound up with the rest of the bloc. "Strong, determined, patient negotiation has achieved a good outcome for Britain."
Cameron Concessions
Still, Cameron had to give ground on some key demands. Having pledged to stop people claiming welfare payments for children living abroad, the British premier has conceded that such claims will continue, and instead of a complete ban on non-U.K. workers getting in-work welfare payments for four years, he has secured an emergency mechanism that tapers those payments.
Liam Fox, a former Conservative defence secretary who's campaigning to quit the bloc, denounced the proposal, saying in an e-mailed statement that "none of these changes even come close to the fundamental changes promised to the public."
The pound erased some some of its losses against the dollar after the draft was published. The currency was 0.3 percent lower at $1.4394 as of 4:48 p.m. in London, having weakened as much as 0.7 percent earlier.
"This is an important compromise and therefore is sterling-positive," said Valentin Marinov, the London-based head of Group of 10 currency strategy at Credit Agricole SA's corporate and investment bank. "It will increase the chances of a deal ahead of the summit."
National Parliaments
Tusk's proposal will limit the application of an ever-closer union in EU law; child benefits will be indexed to the standard of living where the child is; restrictions on in-work benefits may last for as long as four years; and EU legislation can be blocked if 55 percent of national parliaments oppose it, according to the text posted on the European Council's website.
"The only part of this that will matter will be the narrative on immigration," said Matthew Goodwin, a professor of politics at the University of Kent. "If the euro-skeptics can successfully frame this as a busted flush, if they can get those points across in a moderate and articulate way then it could be close. But most voters won't be aware that the negotiation is even going on, let alone the detailed points in the Tusk letter."
Conflicting Signals
Opinion polls have given conflicting indications of voting intentions. The latest telephone surveys by ComRes and Ipsos MORI showed leads of 18 and 19 percentage points for staying in. Online surveys have indicated a much closer race, with a YouGov Plc poll published Monday showing 42 percent of respondents in favor of leaving compared with 38 percent for staying in the bloc.
After pushing for EU reform since setting out plans for a referendum in January 2013, Cameron is striving for a deal at the Feb. 18-19 summit so he can campaign for the U.K. to remain in the bloc. Some details of the benefits proposal have yet to be worked out, and Cameron told his audience in Chippenham that "we need to make sure we get the detail right" before the deal can be sealed.
He'll address Parliament in London Wednesday before traveling to Denmark and Poland on Friday in a bid to secure other EU leaders' backing. Denmark is a close British ally within the bloc, while Poland has more workers in the U.K. than any other EU member, making it key to an agreement. Polish Prime Minister Beata Szydlo said she's "analyzing the latest proposal thoroughly."
'Curb Overheating'
Czech Secretary of State for EU Affairs Tomas Prouza said his government can accept the deal. "We understand the need to curb the overheating of the U.K.'s welfare system," he said in a phone interview in Prague. "It doesn't mean totally closing the U.K. and it isn't turning anyone into a second-class citizen."
---
In a letter introducing the draft text to members of the European Council, Tusk wrote:
Keeping the unity of the European Union is the biggest challenge for all of us and so it is the key objective of my mandate. It is in this spirit that I put forward a proposal for a new settlement of the United Kingdom within the EU. To my mind it goes really far in addressing all the concerns raised by Prime Minister Cameron. The line I did not cross, however, were the principles on which the European project is founded.

I deeply believe that our community of interests is much stronger than what divides us. To be, or not to be together, that is the question which must be answered not only by the British people in a referendum, but also by the other 27 members of the EU in the next two weeks.

This has been a difficult process and there are still challenging negotiations ahead. Nothing is agreed until everything is agreed. I am convinced that the proposal is a good basis for a compromise.
Bulgaria's government, by contrast, doesn't support the plan, "as we need to support our citizens who are making a living abroad," and further negotiations are needed, Dzhema Grozdanova, the head of Parliament's Foreign Affairs Committee, said in Sofia.
"The issue of social benefits and free movement is the most sensitive one," Lithuanian Foreign Minister Linas Linkevicius said. "We need further analysis on the proposals." 
Reactions from western Europe tended to be more positive, with Michael Fuchs, deputy chairman of German Chancellor Angela Merkel's Christian Democrats, saying that the welfare proposal is "something we can discuss." Dutch Foreign Minister Bert Koenders said that an EU summit deal can be reached if the political will is there.
Before it's here, it's on the Bloomberg Terminal.
LEARN MORE