Treasury Yields Tumble to Lowest Since April as Oil Resumes Drop
by
Crude decline `both a symptom and a cause' of global weakness

Government bonds gain as equities slide amid growth concern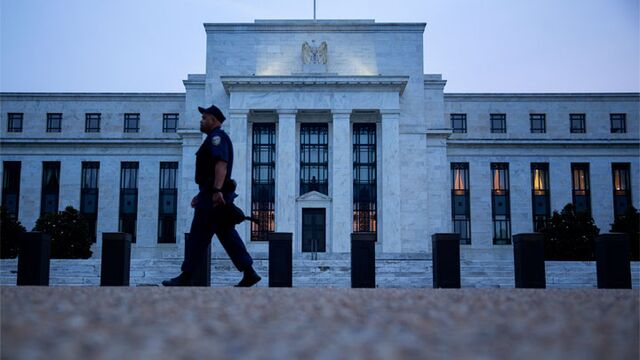 The scramble for the safety of U.S. debt is back on.
Benchmark 10-year Treasury note yields slid to the lowest in 10 months as stocks and oil resumed declines that have dimmed investors' outlook for global economic growth. The rush for the exits from risky markets has fueled a 2.8 percent gain for Treasuries this year.
The diminished confidence added to doubts about the Federal Reserve's projected pace for interest-rate increases this year. Derivatives traders are getting closer to pricing out any Fed rate boost in 2016, while policy makers' median forecast in December called for four increases this year.
"Long-term rates are saying you can raise rates, but you're not going to get that far," said George Goncalves, head of interest-rate strategy in New York at Nomura Holdings Inc., one of 22 primary dealers that trade with the Fed. "That's a bad signal."
The Treasury 10-year note yield fell the most since September, sliding 10 basis points, or 0.10 percentage point, to 1.85 percent as of 5 p.m. in New York, according to Bloomberg Bond Trader data. The 2.25 percent security due in November 2025 rose 30/32, or $9.38 per $1,000 face amount, to 103 19/32.
Respite Over
The Bank of Japan's additional monetary stimulus last week interrupted the flight to safety that's swept through markets at the start of the year. Stocks gained and Treasuries fell Monday. Yet as energy costs resumed their slide Tuesday, global equities declined and the U.S. bond-market rally picked up steam. 
Bank shares fell alongside those of oil producers, which may signal investors are more concerned weak energy prices will have a lasting impact on the global economy, said Priya Misra, head of global interest-rates strategy in New York at TD Securities LLC, a primary dealer.
"There's this fear that if oil is hitting lows, it's both a symptom and a cause of further U.S. and global growth weakness," Misra said. "It's not just risk-off, it is U.S. growth concerns."
The Citigroup Economic Surprise Index shows U.S. data are falling short of expectations by the most in eight months.
The gap between the two-year and 10-year Treasury yields shrank to its smallest since January 2008. That's an "ominous" sign, Goncalves of Nomura said by phone. He said earlier in a Bloomberg Radio interview that the yield curve is indicating that U.S. policy makers made an error by raising interest rates in December.
'Panicky Flows'
Traders see a 47 percent chance the Fed will raise rates at or before its December meeting, according to data compiled by Bloomberg. At the end of last year, that probability was 93 percent. The calculation is based on the assumption that the effective fed funds rate will trade at the middle of the new target range after the next increase.
December's fed funds futures are trading at 0.52 percent, 14 basis points above the current effective fed funds rate of 0.38 percent.
"People are starting to get nervous," said Thomas Roth, senior Treasuries trader at Mitsubishi UFJ Securities USA Inc. "They're starting to drive panicky flows into Treasuries."
Fed Vice Chairman Stanley Fischer said Monday central-bank officials are undecided about what to do next on policy due to difficulties judging the impact of the global outlook on the U.S. Kansas City Fed President Esther George, another voting official, said the recent turmoil was expected and isn't a reason to delay further interest-rate increases.
Economists have trimmed their forecasts for Treasury yields, driven by a worsening outlook for global growth and inflation. The year-end weighted average forecast in a Bloomberg survey of forecasts for 10-year yields has fallen to 2.69 percent, from about 3.2 percent six months ago. Both figures are above the current yield.
Before it's here, it's on the Bloomberg Terminal.
LEARN MORE