Japan Is Making a Bid to Be a Caviar World Power
By
After decades of research, first exports set as market expands

Can take 8 years to raise sturgeon for roe valued at $30,000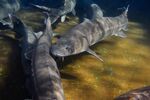 Amid the volcanic peaks and hot springs of southern Japan, something fishy is happening: caviar.  
And not just any caviar. This roe -- kilogram upon kilogram of it -- is the result of an aquaculture experiment that began with sturgeon imported from the Soviet Union three decades ago. Now, for the first time, the eggs prized as a delicacy around the world are about to be shipped overseas to compete with the Russian and Iranian caviar that dominate the high-end market.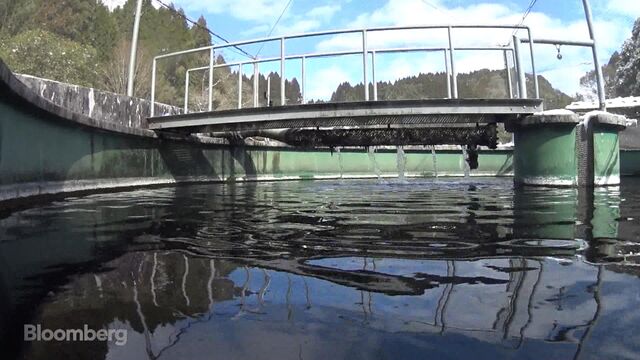 It's a thought that brings a smile to Fumiho Hamanaka, 71, the proud owner of 5,000 white sturgeon that can take at least eight years to reach maturity at almost 5 feet long. Hamanaka has just driven two hours across a snow-covered valley with two fish that will be slaughtered in Miyazaki prefecture for their eggs, which can fetch as much as 1,000 yen ($8.28) a gram. The larger fish yielded 3.5 kilograms of caviar, or 50 percent more than normal, as well as some fish fillets that will cost more on dinner plates than most beef.

"I'll have a toast tonight with my wife to our bumper harvest," Hamanaka said at the processing plant. "I'll have sake with the sturgeon meat, which tastes better than Wagyu beef. I feel very happy when I see more-than-expected eggs coming out of my sturgeon."
What's happening here, on the island of Kyushu, is the latest twist in Japan's $4 billion-a-year aquaculture industry, which has suffered in recent years because of cheap imports. The hope is that the mild spring waters of the Miyazaki will be an ideal spot for the world's next caviar powerhouse.
Sturgeon Farming
While sturgeon have changed little since the age of the dinosaurs millions of years ago and can live for a century or more, they have become endangered in recent decades because of overfishing. That includes the famous Beluga species found in the Caspian and Black seas that can reach 16 feet long. Tighter limits on wild sturgeon have boosted caviar prices and encouraged sales of eggs from farmed fish.
Japan's Miyazaki, already a big producer of beef and pork, began studying sturgeon farming in 1983 using fish sent from the former Soviet Union. While those breeding efforts failed, the prefecture eventually found success with white sturgeon imported from North America. Miyazaki's government-run research institute mass produced fry from eggs in 2011, and commercial harvesting began in 2013. 
Domestic caviar already is being served at Michelin-star French restaurants in Tokyo and sold at high-end department stores in the swanky Ginza shopping district, including Mitsukoshi. But the big payoff is the export market.

Caviar Production
In Miyazaki, sturgeon farming is creating new jobs as local pork and beef operations face increased competition under the Trans-Pacific Partnership trade pact, which may make meat imports from Australia and the U.S. more attractive. The prefecture is targeting expansion of its caviar industry to 10 billion yen annually, expanding its overall fishery production by about 30 percent from 2015, according to Yusuke Hirokawa at the government's fishery policy division.
Production in the prefecture this year will rise to 300 kilograms from 120 kilograms in 2015 and 60 kilograms in 2014, according to Motoo Sakamoto, associate director of the Miyazaki Caviar Producers' Cooperative Association.

Caviar is part of Japan's attempt to revive its slumping aquaculture industry, where revenue tumbled by more than a third in the two decades through 2012. Output began to recover after Shinzo Abe became the prime minister that year, and unprecedented monetary stimulus weakened the Japanese currency and made produce more competitive in export markets.
While cheap imports had limited aquaculture to about one-fifth of Japan's total fish harvest, the world is growing more dependent on farmed supply as demand increases and ocean populations shrink. The United Nations Food & Agriculture Organization predicts farm-raised fish will account for more than half of what the world consumes by 2030, compared with 42 percent in 2012 and 26 percent a decade earlier.
Mountain Water
Nippon Suisan Kaisha Ltd, Japan's second-largest fishing company, plans to build its first inland farm in Kyushu next year to produce shrimp for sushi restaurants. Companies including valve maker Kitz Corp. are providing technologies to build and operate small, low-cost fish farms, even in places a long way from the coast, including in the mountains.
By targeting fishery products that appeal to overseas consumers, aquaculture in Japan could become an export-driven industry, said Masahiko Ariji, an associate professor at the Kinki University.
Miyazaki seized on sturgeon because its mountain water supply is ideal for the fish, staying around 17 degrees Celsius (63 degrees Fahrenheit) throughout the year, said Toshinao Ineno, director at the Miyazaki Prefectural Fisheries Research Institute.

Hamanaka, who closed his construction business to invest 50 million yen on a sturgeon farm, pays Miyazaki's Fisheries Research Institute 500 yen for each 5-month-old fish that he raises for another seven years.
In the processing plant where Hamanaka brought his sturgeon, four members of the Miyazaki growers group are working with tweezers to eliminate specks of blood and fragments of internal organs from the eggs, a labor-intensive practice that enhances the quality of the roe. It took two hours to clean the eggs from Hamanaka's fish.
"Our caviar tastes milder than imported eggs, and their texture is more smooth, like cream," said Sakamoto of the producers association. "If you have them with sake, it will be perfect."
Before it's here, it's on the Bloomberg Terminal.
LEARN MORE