SNB Officials Keeping Close Eye on ECB Actions, Jordan Says
by
Jordan calls franc overvalued, repeates intervention pledge

Central bank president rejects idea of sovereign wealth fund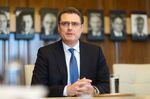 Swiss National Bank President Thomas Jordan said he's keeping tabs on actions taken by his counterparts in the euro area and doesn't see the risk of a currency war even as more stimulus looms.
"We observe clearly what's happening in Frankfurt," where the European Central Bank is based, Jordan said at the Geneva press club on Tuesday. "We will analyze exactly what will be the best response for the SNB."
Since abolishing its cap of 1.20 per euro on the franc in January 2015, the SNB has adopted a twin-pillar policy of a negative deposit rate and a pledge to intervene in currency markets if necessary.
The franc, which soared when the move was announced, has since pared some of those gains against the common currency, and it stood at 1.11504 per euro at 1:34 p.m. on Tuesday -- near the weakest in more than a year. Yet new stimulus that the ECB seems poised to unleash could reverse the trend. That could mean Swiss policy makers might have to cut rates further below zero in response.
"I do not believe that at the moment we're really at the risk of currency war," Jordan said. Central banks were taking action due to domestic conditions, and if the latter improve "it can also benefit other countries," he said, declining to comment whether the SNB had intervened in the past few weeks.
Strong Franc
The Bank of Japan recently joined a growing club of central banks -- which also includes the ECB -- taking the once-anathema step of pushing some interest rates beneath zero in a bid to ignite inflation.
"We're convinced the franc remains overvalued and that's why our monetary policy is designed to reduce the pressure on the Swiss franc with these two pillars -- negative interest rates and the willingness to intervene in currency markets if necessary," Jordan said. He declined to specify how much the franc is overvalued.
Jordan also rejected the idea that the SNB should transfer its immense foreign-currency holdings -- 560 billion francs ($550 billion) at the end of 2015 -- to a sovereign wealth fund, saying they were the result of its interventions rather than national income.
Before it's here, it's on the Bloomberg Terminal.
LEARN MORE