Sainsbury Agrees to Buy Home Retail for About $1.9 Billion
by and
Companies yet to formalize deal, secure three-week extension

Sainsbury quantifies potential benefits of buying Argos owner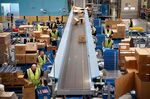 J Sainsbury Plc agreed to buy Home Retail Group Plc for about 1.3 billion pounds ($1.9 billion), handing the British grocer control over hundreds of shops selling everything from jewelry to televisions as it tries to create a more potent challenger to Amazon.com Inc.
Sainsbury will pay about 161.3 pence in cash and stock per Home Retail share, 63 percent more than the price prior to the emergence of talks. The companies announced the terms even though they have yet to hammer out a formal offer, and have obtained a three-week extension to a U.K. Takeover Panel deadline that was due to expire today.
The acquisition would be Sainsbury's biggest, giving it more than 800 Argos stores and a vastly expanded product delivery network. The grocer is seeking to fight back in a market beset by discount competition where efficient distribution is crucial to winning over shoppers who want to order online. About half of the deal's profit benefits will come from closing some Argos stores and putting them inside Sainsbury's supermarkets, extending a trial that started last year.
"It is a decisive and quite radical move," said Bryan Roberts, an analyst at TCC Global in London. "It's the most courageous attempt yet by a supermarket to tackle the problem of excess space in their larger stores."

The planned takeover will boost earnings per share in the first full year, and lead to profit benefits of at least 120 million pounds in the third year, Sainsbury said. In addition to the savings from closing and relocating some Argos stores, benefits will accrue from eliminating overlapping roles and being able to negotiate better deals with suppliers.
'Fair Compromise'
"The numbers stack up well and we continue to think that the commercial logic of the deal is sound from both defensive and offensive senses," said James Collins, an analyst at Stifel.
Sainsbury said it expects to incur one-time costs of about 140 million pounds to achieve the synergies, and to spend an additional 140 million pounds refurbishing supermarkets with Argos concessions.
Chief Financial Officer John Rogers said on a conference call he's confident investors will support a deal. Last week, Home Retail was said to be holding out for a bid of 170 pence per share, with Sainsbury said unwilling to go above 150 pence.
The price represents a "fair compromise given the positions expressed by both sides in recent days," said Richard Marwood, who oversees about $2 billion in assets at Axa Investment Managers, including Sainsbury shares.
Offer Terms
Sainsbury will benefit from transferring Home Retail's outstanding customer loans to its own bank, which will pay the supermarket unit 500 million pounds in cash, according to Rogers. Doing that will flatter the company's financial position by moving the loans off its balance sheet, said Tony Shiret, an analyst with Haitong Securities.
The proposed deal would lead to a full break up of Home Retail, whose board said it's willing to recommend the deal. Its shareholders will own about 12 percent of the combined company.
Sainsbury's bid comprises 0.321 new shares and 55 pence in cash for each Home Retail share. The deal's value includes 200 million pounds realized by the sale last month of Home Retail's Homebase chain to Australia's Wesfarmers.
Morgan Stanley & Co. and UBS Group AG are advising Sainsbury. Bank of America Merrill Lynch is advising Home Retail.
Before it's here, it's on the Bloomberg Terminal.
LEARN MORE