Corporate Distress Deepens as Emerging Bond Spread Widens
By
Investors concerned corporates will struggle to refinance debt

Gap with sovereigns adds to growing signs of bond distress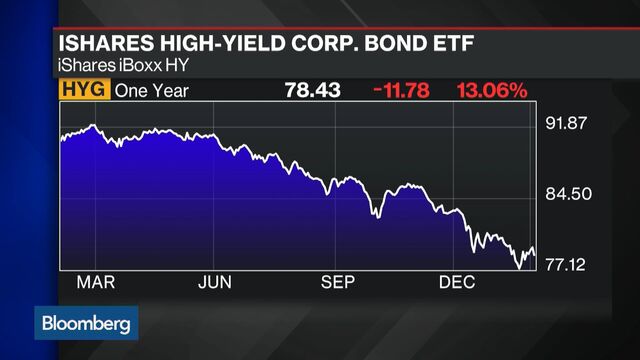 Companies in developing nations face more than $7 of bond repayments this year for every $1 their governments must return. That's making investors nervous.
The premium bondholders demand to own developing-nation corporate debt rather than sovereign bonds widened to 168 basis points on Jan. 27, the greatest gap since October 2011. That signals investors are as pessimistic about the financial health of businesses as they were during the global market turmoil caused by the euro-area debt crisis and the U.S. debt-ceiling impasse.

"Emerging-market corporates suffer the most in this risk-averse environment because there's increasing concern that some companies might have more difficulties refinancing," Nuria Jorba, a credit analyst at Union Bancaire Privee, a wealth manager that oversees about $90 billion, said from Zurich. "Investors still have confidence that sovereigns will be able to issue new debt."
The yield spread with governments is the latest sign of distress from corporate borrowers in emerging markets, buffeted by a commodity-price slump, China's deepening slowdown and currency depreciation. Average borrowing costs have increased by 63 percent since the middle of 2013, according to data compiled by Bloomberg. The number of Eurobonds trading below 60 cents a dollar quadrupled in the past six months and Fitch Ratings warned defaults could go up this year.
Companies must find funds to repay $152 billion this year and more than $400 billion in the next two years at a time when revenues are under pressure from the global slowdown and higher U.S. interest rates damp investor appetite for emerging-market assets. Never in the last four years did the ratio of corporate bond repayments exceed five times that of sovereigns. It was as low as 3.7 times in 2015. But in the next three years, the multiple will be at least 5.4.

Emerging-market governments and companies sold the least amount of Eurobonds in six years in January, data compiled by Bloomberg show. Sales of debt in dollars and euros fell to $31 billion last month, compared with almost $49 billion the previous January.
Sixteen companies defaulted on their debt last year, the most since 2009, Fitch said last month. It cited currency fluctuations as the main threat for companies highly leveraged with foreign debt and singled out banks for "facing weakening asset quality" and being "vulnerable to a diminishing of sovereign support."
"Given the strength of the dollar and weakness of commodities, it makes sense to me that parts of emerging markets are distressed," said Ben Bennett, a London-based credit strategist at Legal & General Investment Management. "I expect this stress to increase as defaults happen."