Photographer: Udit Kulshrestha/Bloomberg
Rajan to Modi: Frugal Indian Budget Is Key to More Rate Cuts
By and
Modi faces challenges to stick with deficit-reduction plan

Most economists see one more interest-rate reduction in 2016
Indian central bank Governor Raghuram Rajan has a clear message for Prime Minister Narendra Modi: a tightfisted budget on Feb. 29 is crucial for any further interest rate cuts.
The Reserve Bank of India will be watching Modi's budget as well as inflation before deciding on its next move, Rajan said on Tuesday after keeping borrowing costs unchanged for a second straight meeting. In the policy statement, he said "a commitment to fiscal rectitude" is a key reason why India's economy is being seen as a "beacon of stability."
"Rajan wants a thrifty budget," said Tirthankar Patnaik, a Mumbai-based economist at Mizuho Bank Ltd. "If the government is on a fiscal prudence path in the budget then the RBI may not even wait for the April policy to cut interest rates."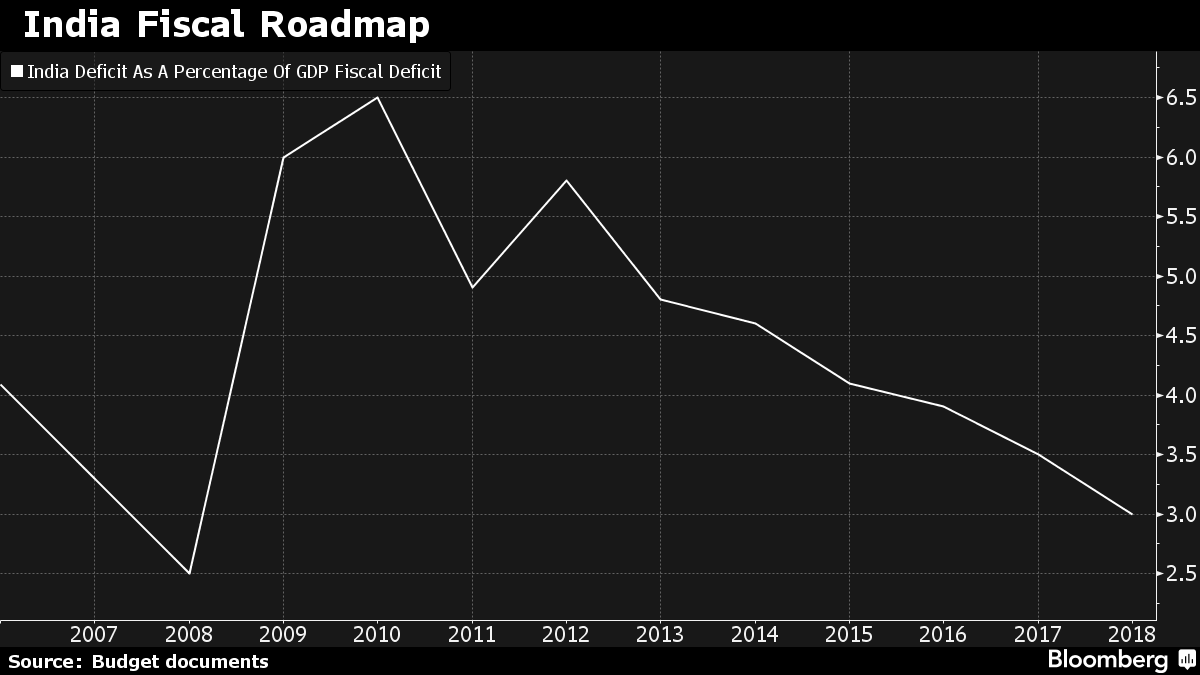 As China's slowdown rattles global investors, India is taking the mantle as the world's fastest-growing large economy. Yet as Rajan pointed out on Tuesday, not all is well even after 125 basis points of cuts in the past 13 months: India is expanding below its medium-term potential, and structural reforms are needed to boost growth without increasing spending and stoking inflation.
India's rupee, the second-worst performer this year among Asia's most widely traded currencies, extended its drop to 0.4 percent or 68.2375 a dollar as of 9:22 a.m. in Mumbai. The country's benchmark stock index has fallen about 7 percent in 2016 and the yield on the sovereign bond due 2025 has risen to 7.85 percent from 7.76 percent.
Room to Cut
Rajan said he's going to look at the "entire package" that Modi presents, including the quality of spending. He told reporters he wants to see policies that relieve supply bottlenecks in education, health care and food management to smooth out price spikes and allow for a sustainable lowering of inflation.
"The more that spending is high quality and limited, the more room that it builds up for monetary policy," Rajan said.
Unlike last year, when Rajan cut rates three days after Finance Minister Arun Jaitley pushed back deficit targets in favor of stimulus spending, he doesn't have much room to maneuver. While India's policy is still "accommodative," Rajan is now on pace to hit a 5 percent inflation target by March 2017 without factoring in a proposed hike in salaries for government employees.
The pay hike could add as many as 90 basis points to inflation, though most of that would be merely a statistical increase that the RBI would overlook, HSBC Holdings Plc economist Pranjul Bhandari wrote in a report on Tuesday. Rajan will cut rates by 25 basis points at the next scheduled policy meeting in April if the budget is "responsible," she said.
Difficult Choices
For Modi, the current fiscal-deficit path presents some difficult choices. To hit the planned budget gap of 3.5 percent of gross domestic product next year he must either delay a proposed $15 billion pay rise, slash subsidies or cut infrastructure spending.
Economists at Standard Chartered Plc and Citigroup Inc. predict the government will let the fiscal deficit slip to at least 3.7 percent of GDP to pay for the salaries without cutting funds for roads, ports and bridges.
"The government will move on the fiscal stimulus and RBI will not consider it as a positive because they have these factors to track," said Anjali Verma, an economist from Phillips Capital in Mumbai. "Therefore there is no scope of further rate reduction."
For its part, the Finance Ministry said last month it would stick to its goal of narrowing the shortfall to 3.5 percent for the year starting April 1. Jaitley on Tuesday said that private investment is still weak and the government would still spend on rural infrastructure.
'Same Page'
Most economists surveyed by Bloomberg last month foresaw just one quarter percentage point cut for all of 2016. Swap traders, who until Monday had been pricing in the possibility of a half-point cut, have now pruned estimates as well.
A rate cut is still possible even if the deficit target is above 3.5 percent of GDP as long as the government spends more on investment and less on subsidies, according to Suvodeep Rakshit, an economist at Kotak Securities Ltd.
"I would expect the government to be prudent in terms of fiscal consolidation, trying to clamp down on inflation," he said. "I think both the government and the RBI are on the same page."