Xi's New Title Highlights China's Power Struggle
by
Wave of provincial party chiefs declare him 'core' leader

Semantic shift could give freer hand during next reshuffle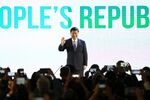 A push to designate Xi Jinping as the "core" of China's Communist Party suggests efforts to strengthen the president's hand in a year of political maneuvering for top party posts.
At least seven provincial-level party bosses including the leaders of Jiangsu, Sichuan and Tianjin have in recent weeks publicly proclaimed Xi as the party's core and pledged to uphold his leadership. The description, which would give Xi a status shared by three prior leaders including Mao Zedong and Deng Xiaoping, wasn't formally bestowed upon his predecessor, Hu Jintao.
The semantic change could signal a shift in China's elite politics, which has for more than three decades stressed collective leadership to avoid the Mao-style personality cult blamed for fueling the social chaos of the Cultural Revolution. Adopting it -- something analysts said could happen as soon as next month's National People's Congress in Beijing -- could free Xi's hand to help shape the party's leadership during a twice-a-decade reshuffle next year.
"If all this is really pointing to the declaration of Xi as the 'core' leader, then it suggests there might be some big changes at the 19th Party Congress," said Joseph Fewsmith, a political science professor at Boston University who studies China's elite politics and wrote "The Logic and Limits of Political Reform in China". The move would "make the 19th Party Congress even more critical in establishing the party leadership."
Designating Xi as essential to the party would cap more than three years in power during which he's taken a leading role in economic planning and embarked on a massive campaign against graft that took down the country's former security chief.
While the practical applications are difficult to gauge, it could potentially make it harder for anyone to question his personnel choices and signal a willingness to break with the established practices for promoting top officials that have governed China's recent transitions of power.
For Xi, "the official adoption of the phrase will likely happen soon," said Zhang Ming, a political science professor at Renmin University in Beijing. "The sooner probably the better, because the strengthened mandate will help personnel arrangements in his favor."
Provincial Leaders
While Xi has routinely emphasized his authority since becoming party general secretary in November 2012, the term "core" has only recently been applied, according to an analysis by Wendy Zhou, a research assistant with the University of Hong Kong's Journalism and Media Studies Center. Hubei provincial chief Li Hongzhong used it to describe Xi during a Jan. 15 session to discuss the latest guidance from the top leader, according to remarks reported by the official Hubei Daily.
At least six other provincial-level leaders have been quoted in state media using similar terminology, often in remarks surrounding the local congress sessions that presage the national gathering. The word has now surfaced in Xi's own remarks: He told a meeting of the party's 25-member Politburo on Friday that developing an awareness of the "core" was among the leadership's focus areas, according to the official Xinhua News Agency.
Think, Act
The nation's top legislator, NPC chairman Zhang Dejiang, used a pre-congress meeting on Tuesday to urge lawmakers to "think and act in line with" the central party leadership under Xi.
"You've seen two forces at work: the provincial leaders are making a good guess on the top's intention and the local propaganda machine is creating the momentum," said Qiao Mu, a professor of media studies at Beijing Foreign Studies University. "Also, the center dropped ample hints."
A formal pronouncement -- perhaps at the NPC or a Politburo meeting -- could firm up Xi's status ahead of next year's gathering, when as many as five of the seven members of the Politburo's supreme Standing Committee could be replaced.
Such changes to the party's rigid lexicon are unusual. Mao was often referred to as the party's "head" or "great helmsman." The "core" concept appears to have been introduced by Deng to anoint then-little-known Jiang Zemin as his successor in the aftermath of the crackdown on pro-democracy protesters in 1989.
Third Generation
Just 12 days after troops entered Tiananmen Square, Deng told the Politburo Standing Committee that he and Mao served as the cores of the party's first and second generations. Jiang, who Deng had plucked from Shanghai to lead the party nationwide, would serve as the "core of the third-generation leadership."
While the term was used to describe Jiang after he became president, it fell out of favor under Hu, according to Zhou's analysis. There were a few dozen state media references describing Hu as a "core" leader, but they lacked endorsement from the central leadership. He was usually referred to as "general secretary," first among nine equals then on the Standing Committee.
Still, the push to give Xi a "core" designation is potentially "a sign of internal opposition and party infighting because a mid-term power transition is around the corner and he felt the need to emphasize something he appears to already have," said Zhang Lifan, a Beijing-based historian and political commentator. "In Chinese politics, what you seek can show what you lack."
Before it's here, it's on the Bloomberg Terminal.
LEARN MORE