Pfizer Outlook for Little Growth Falls Short of Expectations
by
Q4 boosted by new cancer drug Ibrance and vaccine Prevnar

2016 guidance shows earnings and sales not posting much growth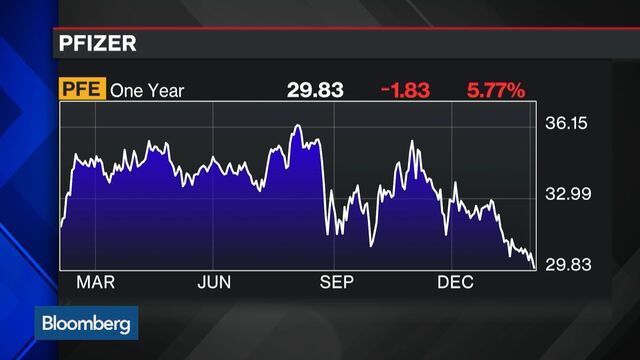 Pfizer Inc.said that 2016 earnings and sales may be flat compared to last year, suggesting the drugmaker may continue with its struggle to return to growth after five years of revenue declines.
Pfizer's fourth-quarter earnings beat analysts' estimates, boosted by the new cancer drug Ibrance and the Prevnar vaccine. But the low end of the New York-based company's annual outlook showed no growth in sales and profit from the year earlier. Pfizer rose less than 1 percent to $30.30 at 10:43 a.m. in New York.
The drugmaker's forecast, which fell short of analysts' estimates, suggests it may take time to rebuild its pipeline after a series of patent expirations on key products, including Celebrex and Lipitor, that led to the years of declining sales. The company has also agreed to an industry-record $160 billion deal with Allergan Plc, which will add sales and may eventually let Pfizer break up into two smaller, nimbler companies.
Pfizer Underperforms Broader Indexes

Fourth-quarter earnings were 53 cents a share, the company said in a statement, topping the average analysts' estimate by one cent. Quarterly net income fell 50 percent to $613 million, or 10 cents a share, from $1.23 billion, or 19 cents a share, a year earlier.
At the low end of Pfizer's 2016 forecast, earnings and sales would be little changed:
Adjusted EPS of $2.20 to $2.30; analysts had predicted $2.38
Sales of $49 billion to $51 billion; analysts had predicted $52.5 billion


The drugmaker also gave details on the fourth-quarter performance of its top products:
Sales of cancer drug Ibrance in line with expectations for $315 million.

Sales of vaccine Prevnar were $1.86 billion, compared with projections of $1.69 billion.


The acquisition of Allergan will lower Pfizer's tax base and bring a portfolio of dermatology products like Botox and stomach drugs like Linzess. The proposed acquisition has sparked political controversy because it would move the company's tax address to Ireland. Pfizer Chief Executive Officer Ian Read said the pending deal is still expected to complete in the second half.
Before it's here, it's on the Bloomberg Terminal.
LEARN MORE