Self-Portrait by 19-Year-Old Schiele Fetches $10.5 Million
by
Christie's sells $96 million of Impressionist and modern art

Surrealist painting by Max Ernst goes for $11 million
A fragmented self-portrait by then 19-year-old Egon Schiele fetched 7.3 million pounds ($10.5 million), leading Christie's auction of Impressionist and modern art in London.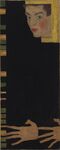 The Tuesday evening sale tallied 66.4 million pounds, within the estimated presale range but 17 percent below the company's similar auction a year ago.
The event was the first major auction of 2016 as Christie's celebrates its 250th anniversary. The world's leading auction house by revenue, Christie's last week reported a 5 percent decline in 2015 sales after five straight years of growth, even as its Impressionist and modern art tally rose 57 percent. The art market's outlook is less optimistic because of roiling equity and bond markets, according to a recent survey by ArtTactic.
"This season, people are watching the market to see where we are headed," said Fotini Xydas, an adviser in Impressionist and modern art at Citi Private Bank Art Advisory and Finance, who attended the sale. "There weren't many blockbusters. The estimates were intentionally reasonable. As a result, there was healthy bidding that seemed real and international."
A separate Surrealist sale at Christie's tallied 29.5 million pounds, bringing the total for the two Tuesday auctions to 95.9 million pounds, on target, but a 35 percent decline from a year ago. Christie's said registered bidders represented 35 countries across five continents. Of the 89 lots offered in both sales, 67 lots sold and 25 percent failed to find buyers.
Red Hat
Modern German and Austrian artists fared well. Schiele's 1909 self-portrait depicting a fresh-faced youth, with long, knobby fingers, was the top lot, selling within the estimated presale range of 6 million pounds to 8 million pounds. Its consignor bought the work for 4.5 million pounds in 2007 and got a hammer price of 6.4 million pounds, a 42 percent increase.
Ernst Ludwig Kirchner's painting of a woman in a red hat sold for 4.8 million pounds, surpassing the high estimate of 2.5 million pounds. The sale prices include buyer's commission paid to the auction house; the estimates don't. The sellers bought the painting at Sotheby's in 1981, according to the catalog, when it fetched $170,000.
Georg Scholz's 1920s cityscape realized 1.2 million pounds, more than doubling the high presale estimate of 500,000 pounds. It was an auction record for the German realist, Christie's said.
Schiele's 1910 drawing of a young girl in a long black-and-white checkered dress got 782,500 pounds, surpassing the high estimate. Citi's Xydas said she bought the work for a client.
She also competed for a small 1893 watercolor by pointillist Henri-Edmond Cross that was pursued by at least four bidders before fetching 362,500 pounds, more than twice its presale high estimate. 
Paris Newlyweds
"We went for a few things and even though we were aggressive we only managed to get one," Xydas said. "Some people may be holding back but others are looking for opportunities."
Marc Chagall's 1928 canvas depicting newlyweds by the Eiffel Tower sold for 7 million pounds, slightly surpassing the high estimate. The sellers had paid $600,000 for it at auction in 1982. A later Chagall painting of a levitating violinist, which had been bought in November 2013 for $2.2 million, hammered at 1.5 million pounds on Tuesday, roughly breaking even for the owner.
Art of the Surreal auction was led by Max Ernst's 1941 painting "The Stolen Mirror," which sold for 7.6 million pounds, toward the lower end of its estimated range.
Just three lots in the auctions carried guarantees, two of which were backed by third parties, Christie's said. The company financed the guarantee on another Ernst canvas, "Fleurs Coquillages sur Fond Marin" from 1928. Among the casualties was a 1928 Ernst canvas guaranteed by Christie's. Estimated at 600,000 pounds to 900,000 pounds, it failed to sell.
Sotheby's evening auctions of Impressionist, modern and Surrealist art are set for Wednesday.
Before it's here, it's on the Bloomberg Terminal.
LEARN MORE